New Harmony, Indiana is home of one the state's oldest settlements and two of the nation's attempts at communal living. New Harmony, southwest of Evansville near the Illinois and Kentucky borders, offers rich historical tradition with a vibrant local flavor that gives the town a unique and intimate appeal.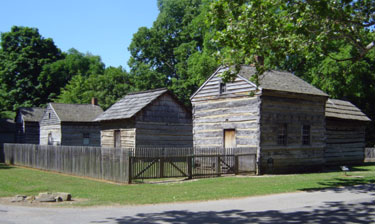 Father George Rapp, a Lutheran separatist from Wurttemberg, Germany and his loyal followers, established New Harmony in 1814. During their ten-year stay in southern Indiana the Rappites flourished religiously, financially, and communally. However due to lack of availability to the eastern market, the Harmonist relocated to western Pennsylvania. The 30,000-acre property was then sold to an English socialist Robert Owen marking the town's second attempt at a communal utopia society. Owen attempted to create utopia through educational pursuits.
Of the 180 buildings constructed during this years, more than 70 remain today. A state-of-the art visitors center welcomes travelers.
Presently, New Harmony offers an ideal tourist destination located thirty miles southwest of Evansville, Indiana, on the banks of the Wabash river.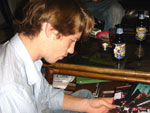 New Harmony is home to fine dinning, spacious lodging, wineries, and local events. The settlement offers a unique weekend trip and a look back at not only Indiana history, but also one of the more unique communal living experiments in United States history.
View Sexton's complete video by clicking here.
Sexton '07 is from Muncie, Indiana.
In Photo: Sexton examines artifacts at New Harmony.