Three Years in the Saddle Civil War Diary Receives State Grant
by Beth Swift • July 13, 2005

Share: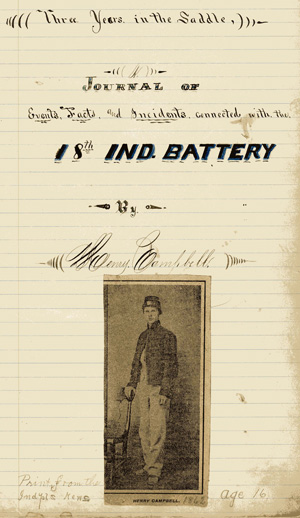 This spring, the Robert T. Ramsay Archival Center at Wabash College and the Crawfordsville District Public Library applied for and received a $4,000 grant to digitize the Civil War journal of Henry Campbell.
Three Years in the Saddle is the story of a local boy, who, along with his buddies, went off to war. In July of 1862 Campbell and friends went to Greencastle to "muster in." Upon examination, it was discovered that Campbell, 16, was too young to be a soldier and was to be sent home. Only the intervention of Captain Eli Lilly kept this from happening. It seems that Campbell had a useful talent in that he could play the bugle. Lilly told the doctor that Campbell was essential as a bugler. It turned out that Lilly was right as his first bugler couldn't learn the calls. In this way, Campbell became a member of Lilly's brigade.
They marched off to war and Campbell faithfully recorded the large and small happenings of this notable regiment. They became a part of Wilder's Lightening Brigade, so called because they were mounted and outfitted with the new Spencer repeating rifles. This rifle was the key to a number of victories. At that time the muzzle loader was the primary weapon. Load, fire, drop back and reload was the order of the day. With the Spencer rifles, Wilder's men simply kept firing.
This diary gives the reader of today a look at life as a Civil War soldier from the perspective a young man from Crawfordsville.
The project, which was one of only 12 funded in the state, will scan the original diary and an accompanying typescript and serve both over the web. The Library is digitizing the typescript to make it searchable to users and Wabash is digitizing the handwritten diary and accompanying maps. When the project is finished it will offer a tremendous resource to teachers and students in the state. The project is part of a larger initiative from the State Library to create an Indiana Digital Library. This project is supported by the Institute of Museums and Library Services under the provisions of the Library Services and Technology Act, administered by the Indiana State Library.

Swift is Wabash College Archivist.