Editor's Note: In early May we published on our website a story detailing the summer plans of nearly 150 returning Wabash College men. See that story in the "Related Story Box" at the top of this page. We've asked them recently to share their summer experience in their own words and pictures. Be sure to check back for updates as we hear from more of our students.
Andrew Wells '06:
This summer I am participating in the Secretary of State Fellowship Program.
I have been working under each of the three divisions that make up the SOS office as well as working in the executive office. I spent the first quarter of the program working in the Elections Division. Since it is a non-election year I spent my time working with Joe McClain the HAVA (Help America Vote Act) administrator. This consisted of assisting county clerks upgrade there polling places in order to be HAVA compliant.
We have also been working on establishing a Statewide Voter File. This has required a lot of work with county clerks and election officials, however, once completed Indiana will be at the forefront of election technology and practices.
During the current quarter of the fellowship, I have attend the County Clerks Convention, the Vote Indiana Team Meeting, and been working daily in the Securities Division where Wabash Alum Mark Mader '67 is a PAU attorney.
A few weeks ago I spent the day traveling East Central Indiana with Secretary Rokita '92. We made stops in New Castle and Hartford City where he talked with journalists about the newly enacted Voter ID legislation. We ended the day in Portland where the Secretary gave a speech on the importance of education and the arts, at the yearly arts program.
In the coming weeks, I will be spending time in both the executive office and business services. It has been a real joy working with Wabash alum such as Mark and Todd, however, I am not the only Wabash undergrad that is part of the program. Abhi Shah '06 is also one of the four college students who are participating.
Allen Chatt '07:
BELOIT, Wi. - Imagine not being able to read, write, or speak at age 20. What to many would be a bizarre experience has been my daily life for the past two weeks as I've participated in the Center For Language Studies at Beloit College in Beloit, WI studying first year Arabic along with 8 other students from across the country. The program is an intensive study in Arabic, where we attend class for about 6 hours each day and usually have around 4 hours of homework each night.
Arabic is a difficult language, but one that I've had a good deal of fun being introduced to in the last two weeks. The process thus far has been an interesting one, learning to first write and read from left to right, and also to understand the letters of the script before truly jumping into the matters of grammar and vocabulary that make a language.
Beloit is a lot like Wabash in the sense that it is a small liberal arts school, and that mentality when brought to intensive language study eases the difficulty of the hardest subject I've had to study yet in my academic career. Our professors (we have 2 for a class of 9) are very accessible - we dine with them and they live down the hall from us in the dorms free to answer questions outside of class. The small class size has helped us to work together on our class work, assisting one another with the intricacies of pronunciation and recalling the vocab we've learned thus far.
The final verdict so early in the summer- the progress is slow, the language is difficult, but I'm having a fun time stumbling along, I've met some great people and I'm learning a lot.
Tony Caldwell '07:
WASHINGTON, Iowa - I am currently employed as an intern with Parent Seed Corn Production at the Washington, IA, facilities for Syngenta Seeds, Inc. I've been working since May 8th and have really enjoyed the people here at the plant (employing roughly 100 persons including summer help), the type of work I have been doing, and the agricultural and biological experiences that I have been able to see, learn about, and take part in.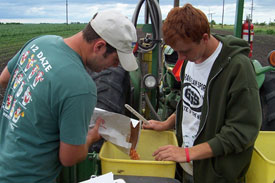 A typical day for myself and my co-intern Kyle Hotz from Iowa State University includes taking notes on corn for population counts, herbicide tolerance, weeds and pests (bugs), and stand counts. We have also done a lot of general plant activities including bagging seed corn, tractor maintenance, and planting corn. We have attended two company conferences and are currently planning and putting together a plant safety powerpoint presentation for the summer help. In the coming weeks we will be busy taking silk and pollen notes for the upcoming pollination, rouging, and detassling seasons. We do a lot of driving to fields in and around Washington County, putting between 30 and 150 miles on our Ford F150 truck daily.
From this experience I have learned a lot about development and production of corn and soybeans, as well as overall business work within a multi-billion dollar company. It has stirred my interest of obtaining a Ph.D. in some Ag-related field working with crop genetics and seed production. Overall my summer has been going great, and I know it will continue to work up until the day I have to return for Freshman Saturday.
In photo above: Tony Caldwell, on right, and Brandon Gillen from the Universtiy of Illinois, work in a field June 15.
Rodney Frederick '08: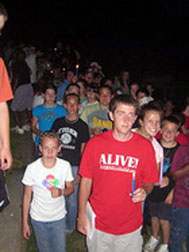 EVANSVILLE, Ind. - Last winter I became interested in residential camps in Indiana, so I attended a summer camp fair at Purdue, and to my surprise there were tons of different camps from North Carolina to the Boundary Waters in Canada.
After narrowing my choices down to two, YMCA Camp Tecumseh and YMCA Camp Carson, I interviewed with both and decided to go with Carson.
This YMCA residential camp focuses on providing programs that build strong body, mind, and spirit for all. My specific job is a cabin counselor, and I am a co-instructor for our dirt-bike program. I usually have about 10 kids per week, and I help teach them how to manage a dirt-bike and how to trail ride.
My experience so far has been a blast. I have seen campers grow closer to God, understand the importance of friends and cooperation, learn how to ride a dirt-bike, and conquer their fear of heights by going off our 5-story high water zip-line.
I encourage anyone who wants to remember what it's like to be a kid and see how much time is devoted in taking care of children to try out a summer camp.
In photo: Frederick leads a group of campers around a lake during a Body-Mind-Spirit program.
Josh Harris '08:
COLLEGE PARK, Maryland - I attended the Undergraduate Interfraternity Institute at the University of Maryland, from Wednesday, June 15 to Sunday, June 19. The Institute was funded by the North American Interfraternity Conference, stationed out of Indianapolis.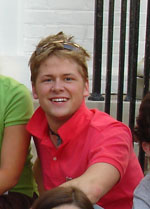 The institute had fraternity and sorority leaders from around the nation, including schools such as Dartmouth, Washington University in St. Louis, the University of Virginia, M.I.T., Georgia Tech, Roanoke, Hampden-Sydney, and Embry-Riddle Aeronautics School.
There were early morning and late nights, starting at about 7 and ending at 10 including seminars, improvement planning brainstorm sessions, team building activities, and small group sessions.
I received a scholarship from Phi Kappa Psi Endowment fund to represent both the fraternity and Wabash College.
The focus of the institute was how to better interfraternity relations on campuses as well as relations within individual fraternity and sorority chapters
I had the amazing opportunity to meet some of the best leaders in Greek life from around the nation, from pledge classes as small as 4 to as large as 30; from campus as small as ours to ones of 40,000; so there was a good variety.
During the week, I got a lot of great ideas from them on how to better our campus and our community. We really took a step back and had to remind ourselves why we joined a fraternity or a sorority.
Going to a seminar like this made me not excited to not only be a fraternity man but to know that I am a Wabash fraternity man adds a certain degree of pride.
In phot Harris from a group shot during the week's activities.