Wabash College Senior Tim Flowers learned March 21 that he had won a prestigious Truman Scholarship. As a part of the program, Tim participated in a leadership weekend in Liberty, Missouri. Tim has written a first-person account of his week:
Have you ever tried to explain Chapel Sing to a large group of non-Wabash students? More importantly, did they look at you like you were a barbarian after you described your lasting love of Tabasco sauce and saltine crackers?
Welcome to my week-long experience at the 2005 Truman Scholarship Leadership Week in Liberty, Missouri.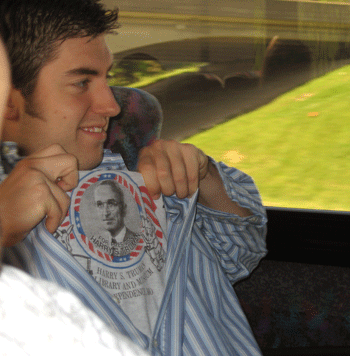 During the last week of May, 75 Truman Scholars from throughout the country gathered to take part in a week of fellowship, friendship, and memories in an effort to nurture future leaders and provide guidance for better public advocacy.
In short, it was the best week of my life.
I did not know what to expect as my red airport shuttle stopped in front of the Zeta Tau Alpha sorority house that was to be my home throughout the week.
Wait, allow me to repeat: a Wabash man stayed in a sorority house for an entire week.
If that's not irony, I don't know what is.
Prior to the week, the other 74 Truman Scholars were nothing more than names on a website. I knew they had accomplished great things, but knew little of their hopes, passions, dreams, and inspirations.
They represented almost every state in the union. And I willingly admit that my perspective of the country is somewhat limited, as I'm a small town Indiana kid who has never been west of Iowa or North of Chicago.
But my personal concerns disappeared quickly as I met the other Scholars. It was truly inspiring to meet a group of people with such diverse personal and career accomplishments. For example, one Truman Scholar was the mother of a six-year old boy and — at one time in her life — a teacher told her that she would never accomplish much with her life.
It might just be me, but I think her teacher was wrong. But what is even more amazing was the Scholar's attitude towards it all. She was thankful, humble, and spoke of her former teacher as an inspiration rather than a deterrent.
Further, another Truman Scholar had been the organizer and leader of an inner-city STD, HIV and Teen pregnancy clinic for five years — and she had just turned 22. And I heard more uplifting stories like these throughout the week.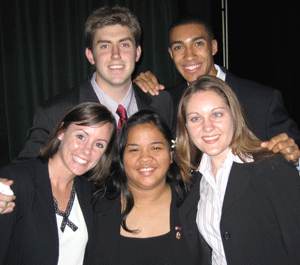 In truth, I sometimes felt inferior when I considered my personal accomplishments and goals. However, I quickly realized that the Truman Scholarship is based on diverse leadership characteristics rather than specific personal accomplishments. And, more importantly, I learned that there is not one concrete definition of leadership.
For some Scholars, leadership means forgoing worldly comforts and moving to the Mississippi Delta to teach poverty-stricken youth. For others, being a leader means identifying and running for the highest political office in the land.
Personally, leadership means something different. Being a leader means returning home to improve the lives of loved ones. In essence, Indiana is my inspiration when I dream of leadership.
And this realization was a mixture of my Truman Week teachings with my experiences at a small, all-male school known as Wabash College.
Throughout the week, I learned to value small, close-knit communities even more — appreciating the power to be found in everyday, intimate relationships. But I also learned the importance of a self-less personality. As President Truman said, it is amazing what can be accomplished when credit for accomplishment is universal rather than personal.
In this world, we thrive together and flounder together.
I learned this lesson from time spent in what the Truman Scholarship Foundation calls, "policy groups," which are small groups of leaders that must address the challenges of policy implementation firsthand.
We were permitted to select the groups in which we worked. I chose the Town Hall policy presentation, where I worked with five amazing individuals to construct a point/counterpoint Town Hall-style forum on "Privacy in the Information Age," which was to be a non-partisan issue.
Taking part in the policy project was my biggest challenge throughout the week; after all, my time as editor of The Bachelor accustomed me to being the ultimate decision-maker on what to write, when to write it, and what to present. That is, even when working with staffers to improve the paper, the buck stopped with me.
I was not in Crawfordsville anymore.
It was odd not being the big fish in the sea. Rather, I was a big fish who was faced with this decision: work with others to survive, or work alone and starve.
Amazingly, I learned to work with every individual rather than trying to direct them — and in just four five days.
Does that sound like an educational experience to you?
After the awards ceremony of Sunday (which was held at the Harry Truman Library in Independence) I had to say my goodbyes to my other 74 Truman Scholars. Despite the sadness, we left on a positive note. Each and everyone one of us wanted to return to our respective institutions to share what we learned.
And as I sat in my parent's rental car on the way to the Kansas City Airport, I began to reflect on the week's lessons. I had been inundated with theories and perceptions of leadership all week. And it seemed every single angle was different. But I managed to find one overarching aspect of leadership that was absolutely integral to improving the world.
In truth, leadership means nothing if you do not share what you learn with others. We are not in this world alone and nor should we pretend that we are. True, some individuals may be more gifted than others in areas of speaking, classroom activity, athletics, or other undertakings. However, groups of motivated people will always outperform the individual who thinks he can make it on his own.
I hope to never be such an individual. I hope to be part of the group.
Flowers, from Cicero, Ind., is a Wabash College senior. He was editor of the Wabash College student newspaper The Bachelor this past year.
In Photos:
At top left: Flowers shows off his Truman t-shirt.
At bottom right: Tim's policy group first row: Cara Castellana, Florida, JackinDee Aguon-Perez, Guam, and Andrea Halverson, South Dakota. In second row with Tim, is Claudio Simpkins, New York.
For more information see: