More than 250 Wabash Men Return to Campus
by Howard W. Hewitt • June 3, 2005

Share:
Wabash men of all ages and backgrounds returned to campus June 3, the College's annual reunion weekend.
Some have been on campus recently like James Spears '50, who was here last fall for a football game. But there are others like Link Marx '55 who have been away a long time.
Marx, a retired human resources director for Deloitte and Touche of Atlanta, had not been on campus for more than 50 years.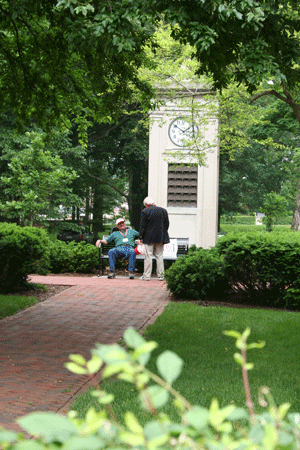 "I came here as a freshman, but was drafted during the Korean War," Marx explained. "Uncle Sam took me away for two years. I returned to my hometown of South Bend and saw the whole town boarded up. So as a young guy I saw there was no way to make a future there and it was time to move on."
So Marx headed to Washington D.C., where his parents had moved, and enrolled in the University of Richmond. But he still holds a very special place in his heart for Wabash College.
"I just think about the wonderful future of this school and what it offers to young men in terms on the educational experience," he said. "I'm a big proponent of liberal arts education because that's a springboard to many, many other things. It forms such a strong foundation intellectually to move on to other areas of specialization."
Despite having only one year on the Wabash Campus, Marx still recalls his first days as a Wally. "I remember how smooth the transition was from high school to a college environment here because of the size of the school and close relationship not only with your fellow classmates but also with the faculty members."
He was resting on the bench near the Milligan Clock and Center Hall enjoying a conversation with Spears. Marx noted that although they had never met before, because they were Wabash men they could converse like classmates.
"Wabash men are like Marines," Spears chimed in. "We've all gone through a similar experience together."
Marx did have an appreciation for the changes on campus since his last visit five decades ago.
"The beauty and the architecture have been preserved here even though there are a lot of new buildings that have gone up," he said. "Everything blends in so nicely."
While walking away to resume his reminiscing he pledged to return a little sooner next time.
Hewitt is Wabash College's Director of New Media/Web Editor.
In photos:
Above: Marx (seated) and Miller share their Wabash experiences.