A Journalist's Perspective on 'Deep Throat'
by Howard Hewitt • June 1, 2005

Share:
Reporters Carl Bernstein and Bob Woodward had a profound impact on journalism through their Watergate reporting for the Washington Post.

After the entire scandal and President Richard Nixon's resignation, they wrote a best seller, All the President's Men. Robert Redford and Dustin Hoffman turned the book into a popular movie.
But the impact on the media, politics and journalists has long been discussed.
Wabash College as a liberal arts institution does not teach journalism within its curriculum but does publish a student newspaper. Numerous College graduates have gone on into media careers.
Raymond Moscowitz, Peru, Ind., is a retired editor, publisher, author and newspaper executive who has spoken to student journalists at Wabash. He also is the father of David Moscowitz, who taught in the Speech Department this past school year.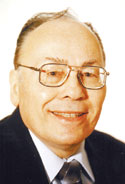 "I believe Watergate illustrates how important it is for newspapers to carry out their role as watch dogs of government. Without Woodward and Bernstein's dogged determination – aided by Deep Throat – we might never have learned about one of the saddest chapters in American history," Moscowitz said.
"It is a chapter that taught us a vital lesson as a nation – that freedom and democracy must never be taken for granted."
Moscowitz, who is a member of the Indiana Journalism Hall of Fame, fears the lessons learned during Watergate have faded from some memories.
"I'm not sure how much we learned," he lamented. "Unfortunately, the kind of reporting Woodward and Bernstein did then is seen too rarely now, thanks, in large part, to the worshiping of the bottom line.
"After Woodward and Bernstein's reporting was vindicated, credibility, which is and always will be journalism's core principle, spiked. We cannot place enough importance on that."
In photos:
At left: Woodward and Bernstein's bestseller.
At right: Ray Moscowitz