Wabash Alumnus is Finalist for $200,000 Teaching Award
by Courtesy SUNY Geneseo • May 26, 2005

Share: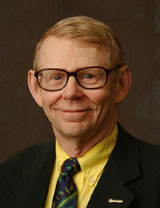 William R. Cook, Wabash Class of 1966, a Distinguished Teaching Professor of History at the State University of New York at Geneseo, is one of three finalists for Baylor University's 2006 Robert Foster Cherry Award for Great Teaching.
The award winner, who will be announced in the spring of 2006, will receive $200,000 and $25,000 for the professor's home department. In addition, the winner will teach in residence during the fall 2006 or spring 2007 semester at Baylor, located in Waco, Texas.
"Obviously, you're excited for yourself, but you're also excited for the institution," said Cook. "When something like this happens at Geneseo, it ultimately is exciting for the institution."
Having a Geneseo faculty member nominated for such a prestigious award will make a big impact on continuing to attract excellent teachers to the college's faculty, he said.
"I want young faculty to come to Geneseo and to say, 'Whatever I want to do in my career, I can do at Geneseo,'" said Cook. "You can play in the big leagues at Geneseo, not just in terms of teaching but the recognition you get for being a teacher."
The Cherry finalists, all scholars/teachers, each will receive $15,000 and will present a series of lectures at Baylor during the fall. Each will present a Cherry Award Lecture on their home campuses during the upcoming academic year. The home department of the finalists also will receive $10,000 to foster the development of teaching skills.
The other two finalists are Anton E. Armstrong, Tosdal Professor of Music at St. Olaf College in Northfield, Minn., and Robert W. Brown, Institute Professor of Physics at Case Western Reserve University in Cleveland.
The award honors outstanding professors in the English-speaking world who are distinguished for their ability to communicate as classroom teachers. Nominees must have proven track records as extraordinary teachers with positive, inspiring and long-lasting effects on students, along with records of distinguished scholarship.
"It's nice to have a sort of external stamp of approval," Cook said of being named a finalist. "Every now and then, it helps to have that confirmed from the outside.
"Most people don't come up to you at the end of the semester and say it was a life-altering experience. Maybe it was, but you don't get that," he said.
Cook will spend three days at Baylor in October delivering public lectures, teaching courses and being interviewed.
One of his keys to success is listening to his students and paying attention to their interests, he said.
"You have to take seriously what they take seriously, and you have to let them know you take it seriously," he said.
A member of Phi Beta Kappa, Cook earned his bachelor's degree from Wabash College in Crawfordsville, Ind., and his master's degree and doctorate from Cornell University in Ithaca, N.Y. Concentrating on medieval history, he studied with well-known medievalist Brian Tierney and spent a year conducting his dissertation research in Oxford, Vienna and several cities in the former Czechoslovakia. In 1970, he joined Geneseo as an assistant professor of history. In 1984, at the age of 40, he was named a Distinguished Teaching Professor.
Cook has focused much of his research on St. Francis of Assisi and has published a short biography and a book about Italian paintings of St. Francis that are housed in the U.S. and a catalogue of all the paintings of Francis. He has published articles about medieval monasticism, Dante, "The Song of Roland," and the teaching of history and humanities. He is co-author with Geneseo Distinguished Teaching Professor of English Ron Herzman of The Medieval World View, published by Oxford University Press. He also appeared on a Learning Channel documentary on Dante and a Hallmark documentary on St. Francis. Currently, he is working on two articles in the field of American history.
Recognized from the beginning of his career as a good teacher, he received the inaugural Chancellor's Award for Excellence in Teaching in 1974. In 1992, the Council for the Advancement and Support of Education named Cook New York state's Professor of the Year. In 2003, Cook and Herzman received the first annual CARA Award for excellence in the teaching of medieval studies from the Medieval Academy of America.
Cook has made an impact on the community in other ways, too. In 1998, he made an unsuccessful bid for U.S. Congress. The morning after Election Day, he sent his substitute home and returned to the classroom, where he belongs. He also is a columnist for the Livingston County News and a member of the board of contributors of the Rochester, N.Y., Democrat and Chronicle.