If beating your head against the wall is painfull...
by Steve Charles • May 17, 2005

Share:
We are always taking refuge in something.
On the eve of beginning a peace walk across the country, Tan Jotipalo '88 returned to campus to discuss his life and the teachings of the Thai Forest tradition of Theravadan Buddhism with Wabash students and faculty.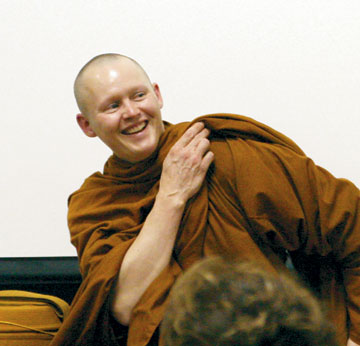 Don Sperry '88 was a salesman in New Hampshire, an expert whitewater kayaker who enjoyed mountain and ice climbing, when he felt compelled to join some friends on a trek to the Himalayas in Nepal.
Struck with a stomach virus and altitude sickness in those mountains, he was abandoned by his companions in a remote Nepalese village. He experienced intense pain and illuminating visions; he faced a choice between life and death.
"I was thinking to myself, 'I wish this pain would end,'" he recalls. "But a voice in my head said, 'If you wish for that, you're dead.' I wanted to be separated from the pain, but I didn't want to die."
Surviving the illness, Sperry returned to New Hampshire, read books to understand the visions he had seen, and was introduced to a Buddhist teacher at a meditation center in Massachusetts.
"During a meditation retreat, when I was having a lot of physical pain, I had an insight," he says. "I realized that the Buddha had said that pain is in the body, suffering is in the mind-and suffering is optional. Once I taught myself how to relax both my mind and body, the physical sensation that I was labeling 'pain' was still there, but the pain, my suffering, had gone away."
Today Sperry is Tan Jotipalo, a Buddhist monk living in Abhayagiri Buddhist Monastery in Redwood Valley, California. Fifteen years after his graduation from Wabash and on the eve of beginning a walking pilgrimage across the country, he returned to campus to discuss his life and the teachings of the Thai Forest tradition of Theravadan Buddhism with Wabash students and faculty.
On a rainy autumn afternoon in the Caleb Mills house, WM asked Tan Jotipalo: "Where do you find refuge?"
My teacher once told me that we are always taking refuge in something.
It might be Christianity, or Islam, or some other religion. It might be our families. We might take refuge in overworking, trying to find stability there. We may strongly entrench ourselves as a Democrat or Republican, as we saw in the last presidential election, without openly exploring what issues really could have been explored. That can be an identity, and that can be a refuge.
We seek refuge in something stable. Something that lasts.
That's why anicca, the truth of impermanence, is one of the most powerful Buddhist teachings to study and meditate upon.
Things are always in flux. We often have a sense that this insta- bility is wrong. We think, if I just had things together, or if other people would stop messing up, then my life would be stable. The search for refuge is driven by our desire to escape that instability.
For a Buddhist, refuge is found in wisdom-finding skillful ways to become comfortable with instability and change.
The more I explore meditation, the more often I find that, when I have some sort of difficulty in my life, it is rooted in one of the Five Hindrances, another basic teaching of Buddhism-anger, attraction, wanting, sloth and torpor, and doubt. You can take refuge in all of these. I may take refuge in anxiety; in worrying; or in doubt, until I can't make any decisions at all.
Sometimes just seeing that my difficulty, my anger, my frustration, is based on one of those Five Hindrances makes it dissolve. If you see that you are a person who worries a lot, as soon as you see through that, and let go of that, you're not only letting go of the worry, but you're letting go of the identity of a worrier. When you let go of that identity, the worry is gone.
The monastery has many rules, and when I first got there, I couldn't go to my normal refuges of eating donuts and watching movies. So I took refuge in anger. Anger can give you a lot of power, a lot of self-worth, a sense of importance, even a sense of self-righteousness.
Unconsciously, that's what I was taking refuge in; you can take refuge in a something that's completely unskillful-a very unhelpful, even destructive thing, and not realize it. That's why knowing our intentions is so important—keeping them clear in the mind.
So I would say that I take refuge in awareness. I take refuge in being aware of what is actually happening in the present moment. Then the Buddhist teachings give me the skills to navigate through that.
You have a choice: to follow your mind when it is agitated, or through cultivation and meditation, to learn to be in a state where you realize that, as one of my teachers said, "beating your head against the wall is painful, so stop!"
But if everybody around you is beating their heads against the wall and they tell you that this is how you'll eventually find fulfillment, it's hard to be the one who says, 'No!'"
Follow Tan Jotipalo's Peace Walk at www.abhayagiri.org/index.php/journals