Wabash College Graduation Celebrates 163 Seniors
by Howard W. Hewitt • May 15, 2005

Share:
Under cloudy skies and cool temperatures, Wabash College President Andy Ford continued a decades' old tradition and rang out the Class of 2005.
Using the school bell which once belonged to founder Caleb Mills, Ford sent Wabash's 163 graduates on to graduate school, medical and law school, impressive positions in business and into the world as Wabash men.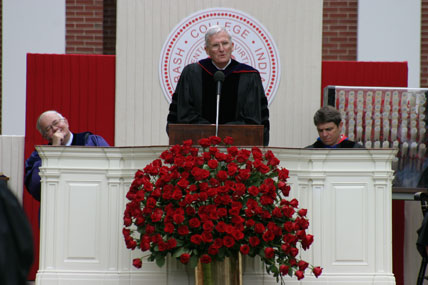 The ceremony on the campus mall featured the usual traditions, pomp and circumstance of the annual rite of passage. Two graduating seniors spoke about their Wabash experience.
Justin Grimmer, a Griffith native, urged graduates to always live in the moment.
"The moments in our life that are the most salient and important remain indescribable with words," the summa cum laude graduate said.
"Rather, we can only hope to conjure the context in which the moment occurs in order to reconnect with the part of our soul that was uncovered. Therefore, life cannot be an attempt to accumulate moments for reflection. Rather we must embrace the significant moments as they occur, for reflection will never yield a true understanding of their importance."
Grimmer, who is headed to Harvard, said the Monon Bell game the graduate's freshman year was a prime example. The Little Giants won the contest on a last-second, desperation pass play.
"Sheer joy consumed our souls, a rush of pride to finally bring home the Monon Bell, and an adulation that caused us all to rush northward in Blackstock Stadium. Yet, the moment, in its purest form exists outside of words and reflection. No verbal description can capture the explosion of communal joy, the sum of thousands of our closest friends contemporaneously experiencing one of the most exciting moments in our lives. The paradox of reflection shrouds even our great athletic endeavors."
He then urged each graduate to take the moments while their classmate's names were being read for their diplomas to reflect upon the greatest moments of their Wabash careers.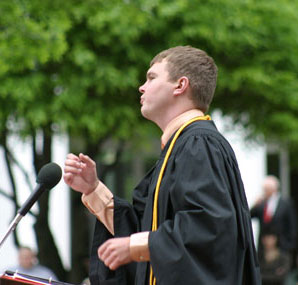 Ryan Feeback, from Bluffton, took a more light-hearted approach using a parallel "dude" universe from the movie "Big Lebowski."

He challenged Wabash men to be the kind of 'dudes' who fight racism, homophobia and set examples for others to follow. "What if we define a successful Wabash man as someone who never misses his son's ballgames."

The College presented two honorary degrees. President Ford presented Alecia DeCoudreaux a Doctor of Laws degree and Lee Shulman a Doctor of Humane Letters honor.

DeCoudreaux is secretary and deputy general counsel of Eli Lilly and Company in Indianapolis. She graduated from Wellesley in 1976 and earned her law degree from the Indiana University School of Law. She joined Lilly first as an attorney, later as director of community relations, and earned eight promotions in just 12 years, representing Lilly and its Research Labs to the state and federal government. She is devoted to the Women's Fund of Central Indiana, the Women's Initiative of the United Way of Central Indiana, and Big Brothers, Big Sisters. She serves as a trustee of Wellesley; is a director of the Indiana University Foundation; serves as a member of the Indiana School of Law Board of Visitors; and is on the Indiana University President's Council.

Shulman is an author, scholar, and president of the Carnegie Foundation for the Advancement of Teaching. He earned his bachelor's degree in philosophy and his doctorate in educational psychology from the University of Chicago. He founded the Institute for Research on Teaching at Michigan State University, and in 1982 began a distinguished career at Stanford University as teacher, scholar, and administrator. He is a member of the Advisory Board of the Center of Inquiry in the Liberal Arts at Wabash.

Hewitt is Wabash College's Director of New Media/Web Editor. Photos by Hewitt, Jim Amidon, and Steve Charles.

In Photos:

At top right: President Ford makes remarks to the graduating class.

Lower right: Ryan Feeback gives his graduation speech.




For more information see: