Much is made of the careers and accomplishments of Wabash College graduates. But if you take a look at how Wabash men spend their summers, the impressive results will be less surprising.
An informal e-mail survey in mid-April gained more than 100 responses from College juniors, sophomores and freshmen.
While many will head home to work in factories, on farms, as waiters, or other typical jobs, others are taking the summer months to pursue experiences that may shape the rest of their lives.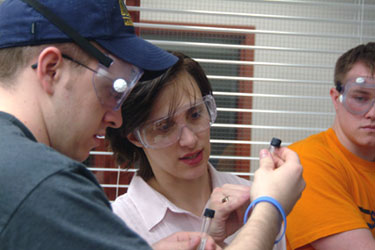 Some juniors, such as David Fitzgerald, have been selected as summer interns in fields that may become future careers. Fitzgerald, who landed a sales internship in Indianapolis, will work for the RCA Tennis Championship Tournament. The tournament is a big-time event and hosts a number of stars, including last year's winner, Andy Roddick.
Fitzgerald will oversee a group of volunteers answering phone calls from people requesting tickets.
"I am happy with this in the fact that it will definitely give me the sales experience I desire and will look good on my resume," Fitzgerald said. "However, the sports field is usually hard to get into in terms of a career; but on the other hand, I have a great interest in sports so the internship should be fun."
Other students have decided to gain valuable life experiences, not through internships, but by traveling abroad. Bryan Roesler, a Jewish student, received a Dill Grant this year and will travel to Israel this summer, where he will attend classes in Hebrew.
"I have felt drawn to Israel for a long time now and I am viewing the trip as a sort of pilgrimage. I can also become a better academic student. As of right now, I would love to go on to grad school and do Jewish studies, but to do that you need to have a strong grasp on Hebrew."
Freshman Joshua Day will be working an internship in Englishton Park as a teacher/counselor at a summer camp for children with psychological disorders. Day, like many of the underclassmen, learned of the experience through the College. Professor C.P. Bankart gave him the tip.
And even more Wabash men used the strong alumni network to land summer jobs. Chip Habegger will work in New York at Saks Fifth Avenue, where Fred Wilson '69 serves as CEO. Jeff Sostak will travel to Boston to help campaign for Kevin McCrea '88, who is running for city council. Nathaniel Eakins will spend his summer in Montana working for a white water rafting company owned by Geoff Faerber '98. Indiana Secretary of State Todd Rokita '92 will host Abhi Shaw and Andrew Wells in a summer internship. On the other side of the political fence, but less than a mile away in the mayor's office Steve Campbell '92 was instrumental in arranging internships for sophomores Adam Kirsch and Elliot Vice.
Students will be participating in the new Experience Indiana summer program, business immersion program and other internships on campus. Some students will be taking classes and doing research in other parts of the country.
The survey was done in mid-April when not all students had finalized their summer work. The two linked documents above give a wide view of the plans Wabash men had crafted for their summers.
Plenty of students will be doing the more typical summer work as well – putting some sweat equity into their college education fund.
And many will be doing it with a sense of humor. Sophomore Shane Keffer is sure to do some heavy lifting in his hometown of Glendale, Arizona.
"I plan on helping deliver beer for an Anheuser-Busch distributorship in the extremely hot Arizona heat," he wrote. "It doesn't exactly qualify as an internship but hey, how many Wabash guys get to deliver beer?"
Asay '05 and Hawkins '07 are writers for Wabash College's student newspaper, The Bachelor. Wabash College's Director of New Media/Web Editor Howard Hewitt also contributed to this story.
In Photos: Chemistry Professor Ann Taylor works with students on research.