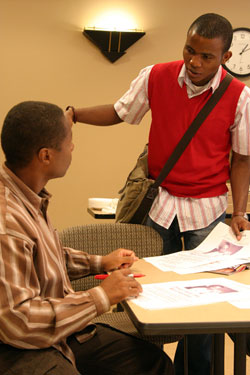 The day after he moved a Wabash College audience with a stirring and stinging performance of his play James Baldwin: Down From the Mountaintop, Tony-Award-nominated actor and writer Calvin Levels pushed students to follow their passion when choosing a vocation.
"I'd still say, 'Follow your bliss,'" the veteran movie and TV actor told a group of students and faculty at the College's Malcolm X Institute when asked for advice for aspiring writers. "This is your life, your one chance at it. You may know people who are truly happy doing less than what they love, but I don't. I don't believe that's what living this life is all about."
Levels' words echoed one of the themes of his play about Baldwin, who believed the role of a writer "is not to write, but to disturb the peace." A novelist, playwright, and essayist, Baldwin's uncompromising voice broke through the wall of racism in the early 1960s. As Baldwin put it, writing was about "dealing with all that anguish, and that despair and that beauty."
Levels' visit was sponsored by the Wabash College English Department, the C&T Course, the Multi-Cultural Concerns Committee, and the Malcolm X Institute of Black Studies.
In photos:
On homepage: Film, stage, and TV Actor and director Calvin Levels talks with Wabash students at the College's Malcolm X Institute.
Above: Levels talks with Wabash junior Dunmomi Owolabi.