The Art Department of Wabash College is pleased to announce the 2005 Senior Art Majors Exhibit. This exhibition represents the culmination of four years of thought, creativity and work by the artists.
Four men are graduating as art majors this year—photographer Shay Atkinson, painter Jacob Catt, photosculpturist Shaylan Owen, and multimedia artist James Ross.
An annual rite of passage for art majors, their works will be on display in the Eric Dean Fine Arts Gallery from April 18 through Commencement, May 15, 2005. The Eric Dean Gallery is open Monday–Friday 9:00–5:00 p.m. and Saturday from 10:00 a.m. until 2:00 p.m.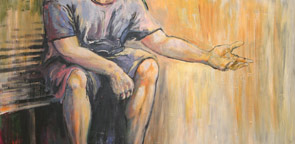 Of his paintings, Jake Catt says, "The human figure engages us because it makes us want to uncover a story—the story that the figure tells. My paintings focus on the anonymity, or incompleteness, of the figure's story. These 'stories' lack a past as well as a future—they only focus on the gesture of the figure during that 'moment in time,' creating an illusion of familiarity. With that, the figure becomes a symbol, and the connotations attached to that symbol are dependent on the feelings and experiences of the viewer.
Similarly, the portraits I have rendered tend to be more revealing to the viewer because the face is the most revealing part of the human figure. The figure and the portrait, by themselves, speak separate languages, but when joined together they reveal a story—the story of our lives. Just as the figure is incomplete without the portrait, the portrait is incomplete without the figure. By separating the two, some context is lost. In these works, I intend to engage the viewer's need to complete the story."
Artist Jim Ross describes his work in these terms. "I am working to address concerns with respect to the increasing use of technology in modern times. I hope to draw attention to a few of the ways in which society is currently unnecessarily or improperly using technology. The specific issues that I have chosen to comment on are transportation, food supply, consumerism, and art." Ross continues, "I have combined simple materials, canvas and wire, along with ready-made objects, and have then projected video images on them in an attempt to juxtapose modern technology with that of past times.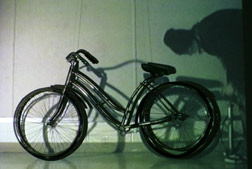 In Bicycle, Broken Couch, Blank Canvas, and Canvas, I have projected a film in which a man attempts to improve or repair objects. In Virtual Cornfield, I have attempted to address the impossibilities of technology, to assert that technology can never take the place of labor and the life cycle." Ross says that he would like "to force the viewer to reconsider the ways in which technology is used in their own lives, and to question whether it is truly the most effective solution to the problems that we face."
Shaylan Owen says of his work, "Photography flattens our three-dimensional world while still being conscious of the perceived depth. I enjoy this transformation from three dimensions to two; it has always energized my creativity." Owen has taken traditional 2-D composite photography and added the third dimension to the flat picture. "I have recently been working with my photographs 'in the round', that is, creating sculptures of photographs visible from many or all sides."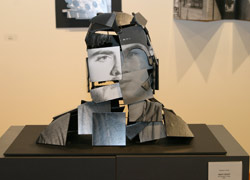 In addition, Owen has, "taken an interest in adding depth to my work in terms of a narrative. This is not necessarily a written narrative, but rather a narrative created by combining imagery to draw a relationship between the subjects. I am implementing this storytelling strategy with the use of cutout images and image replacement. By removing a part of an image and replacing it with another image—or leaving a void altogether—I can alter the possible narratives for my work. With the addition of non-related imagery, I hope to create a new balance and a new level to my work by letting the viewer imagine a story drawn from the multiple juxtaposed images."
"Creating a piece that is both precise and artistically rendered is something I think about constantly. I hope to work more methods of storytelling into my future works and expand further into the three-dimensional realm. I am conscious of the limitations of my materials while still striving to push the limits of what photography means to us."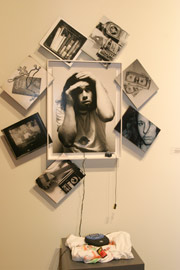 Photographer Shay Atkinson says that his own life history serves as a major inspiration for his work. "I strive to display who I am, how I became this person, and the history I hold. With my work, I hope to present a photographic tour of my mind, specifically, how I see the world. The concept is to allow someone to see through my eyes, not just through my camera's lens. By combining the personal with some cultural universals as a way to help my audience into the work, I hope to create a shared emotional experience."
Atkinson's works—which he calls "photo plus"—combine sound, image and actual objects to convey ideas about family, friends, tradition and "how we live as humans." Shay says, "The photographic art that I have created for my senior exhibition asks viewers to become intimate with the art; to touch it, listen to it, and react to it."