Professor David Blix '70 Named Carnegie Scholar
by Howard W. Hewitt • April 11, 2005

Share:
David Blix, an assistant professor of Philosophy and Religion at Wabash College, has been selected by The Carnegie Academy for the Scholarship of Teaching and Learning (CASTL) as a 2005 Carnegie Scholar.
Blix is one of 21 faculty members selected from a pool of over 300 U.S. and international applicants who have committed to examining student learning and investigating undergraduate teaching.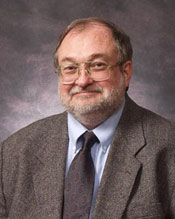 "It's a combination of feelings," Blix '70 said Monday afternoon. "To be one of only 21 nationally feels like a great honor. I look forward to getting some real guidance trying to sort out my own pedagogy."
CASTL was created by the Carnegie Foundation for the Advancement of teaching in 1998 to establish and refine standards for the critical review of teaching and learning by faculty members in college and university classrooms. CASTL also helps to establish new settings and forms for the examination of teaching and learning so that faculty members can exchange information and build upon the work of their colleagues.
During the 2005-2006 academic year the Carnegie Scholars will work on projects that explore the integration of learning across courses, over time, and between campus and community life. Such "integrative learning" helps undergraduates connect an often fragmented educational landscape and develop the habits of mind that prepare them to make informed judgments in their personal, professional, and civic life.
Carnegie is working on this area of learning with the Association of American Colleges and Universities, and with the Wabash Center of Inquiry in the Liberal Arts, a co-sponsor of the Carnegie Scholars Program.
This year's projects are a natural for Blix. "To me this dovetails perfectly with our vision of the liberal arts," he said.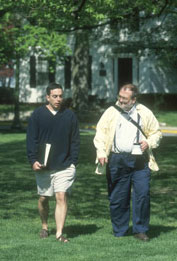 The Carnegie Scholars will participate in three residencies at the Foundation's Stanford, Calif., headquarters and present their work at professional conferences, attend workshops and institutes, and work with Carnegie Scholars from previous cohorts.

"It's a little intimidating," Blix said. "Mike Axtel, who did this last year, and Charlie Blaich, say the first training session is a little like boot camp."

Axtel, a previous Carnegie Scholar, is an Assistant Professor of Mathematics. Blaich is Director of Inquiries at the Center of Inquiry.

"The Carnegie Scholars Program supports the work of distinguished faculty who are contributing to an emerging scholarship of teaching and learning," said Lee Shulman, president of The Carnegie Foundation for the Advancement of Teaching. Such work is essential, Shulman explained, because teaching tends to be a private act, limited to the teacher and students. It is rarely evaluated by professional peers. "The result is that those who engage in innovative acts of teaching rarely build upon the work of others. We work to make teaching public, subject to critical evaluation, and usable by others."

Blix is a 1970 Wabash College graduate. He continued his education at the University of Chicago, where he earned his master's degree in 1974 and his Ph.D. in 1988. He taught previously at Wabash from 1988-90, 1993-95, and 1996-98. He also taught at Hampden-Sydney College, Millsaps College and the University of Iowa.

In Photos:

At top: Dr. David Blix.

Bottom left: Blix crosses Wabash Campus mall with former student Robert Vass '99




For more information see: