Tragesser Shares Networking Tips
by Alison Kothe • April 6, 2005

Share: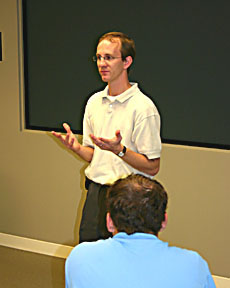 Joel Tragesser '94, Phi Beta Kappa graduate and '97 graduate from Vanderbilt Law School, talked to Wabash students about the importance of networking. He pointed out that each student in attendance had already participated in networking by virtue of attending Wabash and may not have even been aware of the fact that is what they were doing. For instance, the decision as to where to live no doubt involved some networking with current students. The decision of what courses to take based on who was considered to be the best professor involved networking. Joel explained that the same process is necessary when trying to determine both what to do and where to do it.
While Tragesser knew coming into Wabash that he wanted to be a lawyer, it was only through conversing with other lawyers that he was able to hone in on exactly the kind of law he wanted to practice. He said it is important to be prepared for each meeting and to make sure that your agenda is clear. Are you meeting because you want to learn more about something or are you meeting because you are actually seeking employment? Know the difference.
Joel mentioned a friend of his who took a 20 week training course on networking while working in the Private Client group of a Chicago Bank. He said one of the things he learned was that one should always hold his drink with his left hand so that when he shakes hands with others they will not receive a frigid hand shake. An investment in a 20 week training program brought home just how important networking is to business development.
Joel handed out a small card with nine key networking questions such as:
How did you get started in your field?
What about your profession do you enjoy?
What makes your organization stand out from its competitors?
What advice could you offer someone starting out in your field?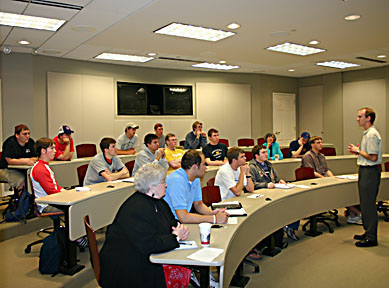 Joel stressed the importance of networking within your place of employment so that other employees know who you are and what your interests are. He also emphasized the importance of never saying "no" when given a task. The only way a new employee will stand out among other employees is by developing a reputation as a "go to guy" - some one who can be depended upon to complete an assignment independently, well and in a timely fashion. By so doing one can demonstrate initiative, intelligence and dependability….all very important to the success of any business.
Many thanks to Joel for sharing his experiences as a part of our Lilly Endowment grant efforts.