Wabash Men Get Creative with Community Service
by Mark Shreve '04 • April 4, 2005

Share:
Over the weekend, the campus appeared as you would expect in the early days of April. Students attended a comedy show, played in a volleyball tournament, went to a fraternity party, and wrapped up the weekend with a home run derby in the park.
The activities were all performed on behalf of local and national charities.
The philanthropic activities represent what appears to be an increased focus on community service, college-wide. Wabash freshmen begin their college experience with a community service project during orientation and begin to join living units and organizations which make service a central focus of their activities.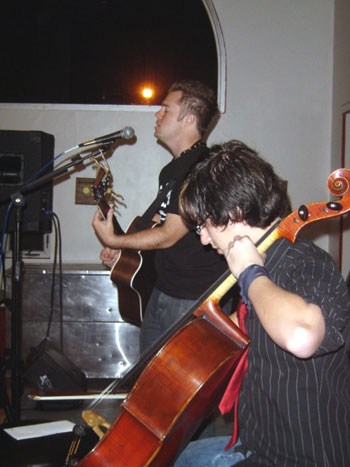 But community service doesn't seem to be the dreaded all-day car washes, weed-pulling, highway cleanup projects you might think. Wabash students are increasing their philanthropy — and they're doing so creatively.
Students and visitors packed Saturday into the Phi Kappa Psi fraternity to witness the second Singer/Songwriter Showcase. Junior Sam Clark began the evening with a short set and was followed by Wabash alumnus, Jack Barkley '89. For Barkley, it was a chance to get back to his former living unit and to see that the brothers who have replaced him.
Headlining the show was Oklahoma artist Darren Flowers. Flowers played at the inaugural concert and drove from a show in South Carolina to play for the second showcase at Wabash. For an artist who relies on paid gigs and tips to afford gas back to Oklahoma, performing a free show was a sacrifice, but an honor.
"I love playing at Wabash," said Flowers. "The atmosphere at Wabash is always very accepting. It seems like the guys are very enthusiastic and care about what they're doing."
Early in his set, Flowers teamed with cellist Braden Pemberton '07 on one his newest songs, "Anchors." Collections from the show were given to Habitat for Humanity and local food banks.
Phi Kappa Psi philanthropy chairman Nic Bitting '07 came up with the idea for a singer/songwriter showcase as a way to combine students interests with civic responsibilities.
Wabash students are increasingly finding ways to incorporate service into their lives and their interests into service.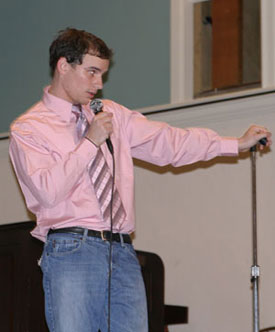 Andrew McGlothlen '05 spent the last few months planning "ThE lAuGh OfF," a comedy show which became a competition between Wabash students and rival DePauw University. On Friday night, the final showdown among comedians raised more than $500 in ticket sales to be added to previous ticket sales and other donations. Wabash comedians Mark Cross and Evan Schmit finished second and third.

The proceeds — more than $1200 — went to the Leukemia and Lymphoma Society.

The Sphinx Club took advantage of Sunday's spring weather by inviting the campus to a home run derby. The derby brought children from the community together with Wabash students to raise money for the Make-A-Wish Foundation. Earlier in the weekend, students formed teams to participate in the Intrafraternity Council's volleyball tournament for charity.

And the list continues. A group of international students made t-shirts to raise over $1500 for tsunami relief efforts; Rick Warner's history class collected toys for a classroom in Chiapas, Mexico, as part of their spring break immersion trip; the Vagina Monologues brought in several hundred dollars for domestic violence charities; athletic teams utilize community service as a responsibility and valuable team-building experience; the Malcolm X Institute leads an on-going tutoring program; and students still participate in the highway cleanups and blood drives which used to be the extent of community service on campus.

You may also remember the stories of John Meyer '05 leading the brothers of Alpha Phi Omega, Wabash's service fraternity, on the Relay for Riley. Meyer not only raised awareness for the Indianapolis children's hospital, but also more than $10,000 in donations for Riley.

Meyer was one of last year's recipients of the Community Service Award for Outstanding Work. But students don't seem to be putting in the time and effort for an award or for a quick PR blip — they genuinely see service as a part of life.

"Philanthropy isn't something that takes all that much time, effort, or money, but it can and does change the world, and I enjoy being a part of it," said Tony Caldwell '07, who volunteers through his fraternity, the swim team, and other campus organizations.

These students — defined as "Millennials" by sociologists — are said to lack focus and are not engaged in the world around them. The generational research has to be incorrect or Wabash students must be bucking the trend — either way, Wabash men are making a serious commitment to service and looking for new ways to give back.

Sheve '04 is Wabash College's Assistant Director of Annual Giving

In photos:

Above right: Pemberton '07, Flowers play a set.

Lower left: Schmit does his routine during the Laugh Off in the Chapel.




For more information see: