Music Students Visit Nation's Largest Harp Maker
by Brittney Dick • March 28, 2005

Share:
RISING SUN, Ind. - Wabash student Ray Green plays piano, drums and a bit of guitar. He recently made plans to master another instrument, but it might be awhile before he has the chance to play. First, he has to construct it from scratch. Green is making a harp. Meanwhile, his classmates are working on various other projects such as flutes and drums.
They're enrolled in Dr. James Makubuya's Music 202 class, where they learn the construction, science and history of instruments from around the globe. Green said he took the course to learn where native instruments come from and how they came about.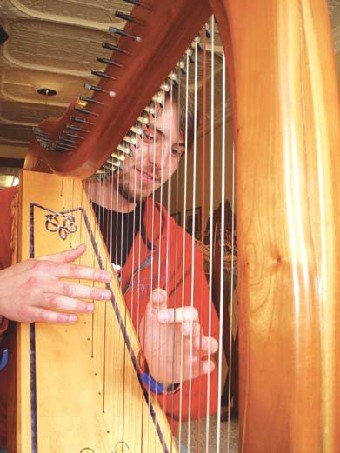 The class saw how present-day instruments are made March 24. The group traveled to Rising Sun, along the Ohio River in southeastern Indiana, to explore behind-the-scenes of Wm. Reese Instruments. The 14-employee shop manufactures harps sold around the world. Green said the trip helped him figure out how he would shape his harp's sound box.
Other students said they benefited as well. Saad Tahir is shaping up plans to make a bansuri – a set of three flutes made of different materials native to his home country of Pakistan. Although the bansuri is in no way constructed the same as a harp, Tahir said he appreciated seeing how professionals make instruments.
Tahir took the class because he always wanted to make an instrument native of Pakistan. With Music 202, he receives credit for doing so.
Brock Medsker, like Tahir, took the class because of the big project.
"I heard from a friend you got the chance to build an instrument. I'd never really built anything before, so I decided to take it," Medsker said.
Makubuya said his students researched their instruments independently before they ever started construction.
Medsker recalled reading his instrument, the tongue drum, originated with the Aztecs. The oldest instruments were made of hollowed out logs.
Although they were out of the traditional classroom setting, Music 202 students learned a bit of harp history at Wm. Rees. In addition to hearing about the different materials strings are constructed of, they found out that strings are color-coded red for C's and blue for F's. Harp maker Bryant Rees told them archaeologists found harps with the same color-coding in Egyptian tombs.
Makubuya said this was the third year for the trip. Even so, he took a page of notes filled with new information.
He found out about the Hoosier harp manufacturer at a workshop while he was still teaching at Massachusetts Institute of Technology.
"It was there I learned that Wm. Rees means harps," he said. It was too far to take his MIT students, but he knew it was located within three hour's driving distance of Wabash. Makubuya hoped the workshop would send a clear message to his students.
He felt it would serve as reinforcement "for them to hear there is nothing written in stone," he said. He explained that although the students receive hints, they perfect their personal instruments by trial and error. It's not as hard as it may sound.
After all, William Rees designed and created his first harp in early 70's. He's now the largest custom harp maker in the country and the third largest in the world, said employee Darlene Walton.

Dick is a reporter for the Crawfordsville Journal Review.

In Photo:

Josh Levering '05 tries one of the Wm. Rees harps.




For more information see: