On Good Friday, Wabash alumnus and Buddhist monk Jotipalo Bhikku joined hands with the nuns and parishioners of Immaculate Heart Catholic Church in Mississippi and said the Lord's Prayer.
On Holy Saturday, when the nuns needed help preparing the sanctuary for Easter morning, Jotipalo's task was to lower the likeness of Jesus from the Cross.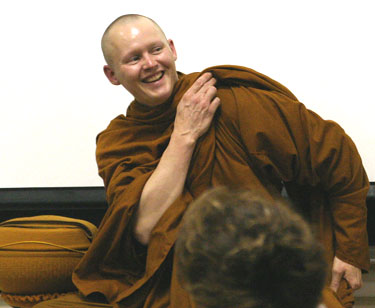 Twenty-six days into an historic six-month walking pilgrimage from New Orleans to Thunder Bay, Ontario, the Therevadan monk from Abhayagiri Monastery in California finds one recurring theme—expect the unexpected.
Lately, the unexpected has brought hospitality, fellow spiritual seekers, and a deeper understanding of his faith.
Such blessings weren't apparent during the first days of the walk.
Walking along the Mississippi River levee between chemical and industrial plants in the notorious "Cancer Alley," Jotipalo and Buddhist layman Austin Stewart were met with stares and an occasional kindness, but landowners wouldn't give them permission to pitch their tarps, they couldn't find safe public places to sleep, and very few people were at all interested in knowing more about their journey.
It felt as though a man couldn't walk across his own country anymore.
"I think every cell in both of our bodies is screaming, "Stop this! End the walk!" Jotipalo wrote in his online journal that week. The two men with shaved heads and traditional Buddhist monk's robes had just been called "the Devil's seed in our midst" in a LaPlace, Louisiana fast food restaurant. They ended the day with an exhausting 22-mile walk, looking in vain for a place to sleep.
"It feels as though Louisiana isn't ready for Buddhist monks," Jotipalo wrote. "We have met some very kind, generous people here, but when taken with our exhaustion and our discouraging encounters with others, it's just not enough to sustain you emotionally."
Stewart wrote as they eyed the next state on their journey: "If anybody says they have no fear of death, I challenge them to walk through Mississippi the way that we are dressed."
The men's Buddhist practices of meditation and evening chants kept them off the edge of despair, and a ride from a Catholic priest from India and his three retired friends out for a day trip from Vidalia, Mississippi, helped turn the tide.
"We had a great time with this man and his friends," Jotipalo said. "They said that if we wrote about them, I should call them 'the Old Farts!' This was really our first contact since we've been here with people who were actually interested in what we were doing. They ended up giving us some money and before we left them, they asked me to perform a traditional blessing for them in the Pali language. It felt nice, like we're in Mississippi and being a little better received."
Soon the two were on the Natchez Trace, where long walks with heavy packs were rewarded with unexpected beauty and kindnesses.
"The Trace has been good to us so far," Jotipalo wrote in his online journal on Day 10 of the walk. "The extra weight has been heavy, but not the impossible task I had envisioned."
Strangers in campgrounds offered money and food, a ranger pointed out good places to spend the night along the Trace, and connections through the monastery, meditation centers, and the Catholic Church began to bring Jotipalo the restored faith and hope for humanity he'd envisioned discovering on the walk.
One Catholic group in Kosciusko, Mississippi gave the two men shelter from severe thunderstorms for three days, as well as food and hospitality in their homes and at St. Therese's Catholic Church. Both men now carry St. Christopher medals received as gifts from those parishioners, for whom the monks chanted Buddhist blessings.
"These women kept thanking us for coming into their lives," Jotipalo said. "But Austin and I had received so much warmth, hospitality, and generosity from these women—we were the ones to be thanking them."
It all led to remarkable interfaith exchanges during Holy Week in Houston, Mississippi, where the monk and Stewart were welcomed by the parishioners and nuns at Immaculate Heart Catholic Church.
"I feel very welcomed here, and my experiences and beliefs are so similar to the sisters that you would think I was Catholic!" Jotipalo wrote. "Later I was telling Sister Pat that listening to our conversation, some might think I was Catholic. She jumped in immediately and said, "Or we are Buddhist!"
"I wasn't expecting my faith to be strengthened by good things happening to us," Jotipalo wrote. "I guess I expected faith to come from having to endure hardships and suffering. I thought the test would show me strong enough to overcome the difficulties. I've carried this belief that you only learn through suffering. No pain, no gain.
"But this last week I'm finding that I can also learn from joy and happiness. I never imagined that the hardship and burdens would just be lifted from my back. I thought the faith would come because I would the one strong enough to overcome. But I'm discovering faith because others are looking after me!"
Charles is editor of Wabash Magazine.
For more information see: