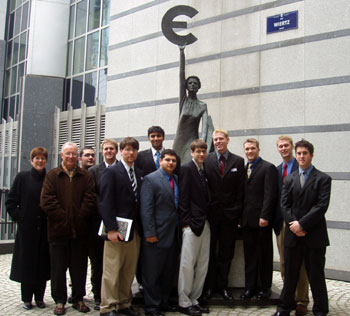 Most immersion learning trips feature intellectual insight, great food, and fantastic sights. Many of the trips also have those human moments the participants will remember just as much as the educational benefit.
Students studying the European Union over Spring Break saw and learned a lot but also dealt with a sick professor and five of their classmates missing a train during a short stop-over in Luxemburg.
Professor of Political Science Melissa Butler and Professor of Economics Kay Widdows led a group of Wabash men through visits of Strasbourg, France, and Brussels, Belgium.
Widdows fell ill late in the trip but returned to her Baxter office Tuesday. During a train trip, five of the students didn't get back to the train during a 15-minute stop, but quickly realized another train was departing in less than 10 minutes.
"I was pretty relaxed when losing students in Luxemburg," Butler joked, "because I have led 40 students through a bazaar in India. And after that, nothing rattles you very much."
Butler, a bit of a veteran at immersion learning, reflected on the trip noting that little replaces hands-on learning.
"I think that actually walking the halls of the institutions and meeting with people who work in the field is invaluable," Butler said. "The students also learn how to ask a question. At the beginning of the week that is not something they're all that sophisticated at but by the end of the week – every place we went the folks would say 'what a good group' and that they asked questions far more sophisticated than presenters usually get."
"We were able to see firsthand the consequences of the great leaps forward that have characterized the growth of the European Union," sophomore Gabe Smith said. "For example, when we were in the Council meeting room, we saw there were only 10 translation booths when in fact there are now 20 official languages."
The immersion experience brings concepts and principles to life.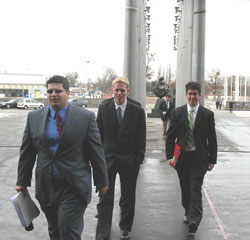 "I think it pays off in enthusiasm and a level of appreciation for reality that there really are people for who the policies of the European Union make a difference and it's not just a chapter in the book," said Butler. And to see people whose daily lives are actually impacted by what they're studying."
Butler also believes there is some advantage to taking students on Immersion Trips who have done such learning before.
"Immersion learning is interesting in that it's not something our students naturally know how to do," she explained. "It takes a little bit of growth and practice to get good at it. The nice thing is we have enough trips that there are usually some students on a trip who have had some previous experience with immersion learning and are able to share that and talk to the other students."
Leo Priemer '06 said some the EU remains an abstract concept to many of its own citizens. "We talked to a lot of Europeans who really didn't care at all about the European Union. It didn't seem to affect their lives at all."
Butler and Widdows get their share of good natured barbs about two female professors leading a group of young men around Europe. Butler agreed the oversight is not much different than parenting.
"The first time we went out we did not set out a lot of rules and we were fairly loose," she said. "What we found out is you can't tighten things up after they've been loose. We've found out subsequently that you can loosen things up after they've been tightened.
"What we've done is to let the students spend the first couple of days earning our trust and they always earn our trust. Then we praise them and we let them go."
The students will be spending most of the next 6-7 weeks working on research papers, perhaps inspired by issues they learned more about while traveling. Butler said the immersion trip would hopefully help the students maintain enthusiasm for their research projects.
Hewitt is Wabash College's Director of New Media and Web Content Editor.
In Photos:
Top right: Jane Hardy, Richard Widdows, Saad Tahir, Jon Koerner, Michael Matsey, Abhi Shah, Kaizad Daruwala, Adam Hawkins, Gabe Smith, Zach Mulholland, Matt Schulz, and Leo Priemer stop for a group shot in front of the European Union Headquarters in Brussels.
Lower left: Daruwala, Smith and Priemer enter the EU offices.