Freshmen Visit Jasper Saturday to Start Immersion Trip
by Howard W. Hewitt • March 5, 2005

Share: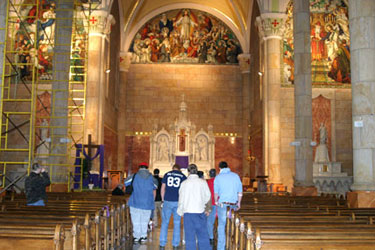 JASPER, Ind. – Wabash College freshmen learned about Dubois County's German heritage, visited a church more than 130 years old and dined Saturday on wiener schnitzel, bratwurst, and sauerbraten.
And Saturday was just the first day for a freshman tutorial visit to southern Indiana where names like Streicher, Lehmkuhler, and Rasche are as common as Smith.
Professor Greg Redding's freshman class studying The German-American Experience will spend most of three days in southwest Indiana studying German immigration into Indiana.
The students arrived mid-afternoon and immediately headed to the Dubois County Museum to learn about the German families who settled in the area. German immigrants first arrived in 1836 and established a strong cultural heritage which remains today. Students got a brief glimpse of the early German settler's lives and some of the reasons they left their homeland for the Midwest.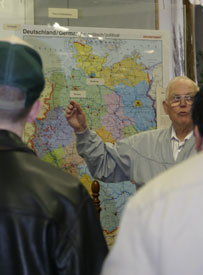 They followed the history lesson with a tour of the Romanesque St. Joseph Church, located in the middle of Jasper. Construction on the church began in 1867 and took nearly 13 years to complete. The church features three large and incredibly detailed mosaics which were imported from Austria. The stained glass windows were installed in 1898.
The 1,200 seat sanctuary features Italian marble altars, Swiss stained glass, beneath a ceiling which peaks at 92 feet. The church tower, inspired by London's Big Ben, dominates the Jasper downtown area at 235 feet.
Many of the 10 students got their first taste of German cuisine to end the day. The men dined at one of the area's favorite restaurants, The Schnitzelbank.
On Sunday the group will tour the Monastery Immaculate Conception in Ferdinand and the Archabbey just a few miles to the south near I-64 at St. Meinrad. The class heads to Evansville Monday.
Hewitt is Wabash College's New Media Director and Web Content Editor.
In photos:
Above right: Students look at stone sculptures of early priests at St. Joseph Church in Jasper.
On left: Dubois County Museum volunteer Lowell Glendening uses a German map to explain immigration.