Wabash students will visit the Louvre in Paris, study math in Prague, research ancient Mayan ruins, see the seat of European government in Brussels, Belgium, and Strasbourg, France – and, they'll eat wiener schnitzel in Jasper Indiana's famed Schnitzelbank Restaurant over the March 5-12 Spring Break.
Nearly 100 students will be touring the globe to gain an in-depth understanding of their classroom studies.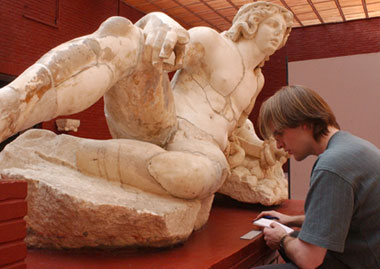 Spring Immersion trips began five years ago at Wabash as a way for students not likely to study abroad for a full term to gain the benefits of the experience. The trips also allow students to visit cities, countries and sites they've studied or read about in the classroom.
Wabash professors lead the Immersion Trips, which are funded, in part, by the Campaign for Leadership. Students must pay for a few meals and provide their own spending money, but all other costs are covered by the College.
"This is a formula for learning that cannot be replicated, and for many of them promises to be a personal and academic adventure they will carry with them after Wabash, as they enter their years of life-long learning," History professor Rick Warner said.
Warner will be taking 15 students to the state of Chiapas, Mexico. He has previously led a trip to Mexico where students study Mayan ruins and archeological sites.
While Warner's students will dine on authentic Mexican food, a freshman tutorial group will be discovering the finer points of sauerbraten at the Schnitzelbank and Newport, Kentucky's replica of the famed Munich Hofbrauhaus.
For the first time in five years one of the Immersion Trips will be Indiana based. German professor Gregory Redding will lead a group of 11 freshman students to areas of Indiana with strong German influence.
The group will visit New Harmony, the Berne area, and then head south to Dubois County and to St. Meinrad Archabbey. They will visit working Amish farms and the furniture making industry in Jasper. A trip to Cincinnati's Over The Rhine region, an entry point for many Hoosier immigrants, will also be part of the week's itinerary.
"I think they're still pretty dubious, 'what are we going to be doing?'" Redding said of his student's reaction to Spring Break in Indiana.
"The genesis of this was flying down to Ecuador and sitting with Dean of the College Mauri Ditzler. We realized we're really good at sending guys away 4,000 miles and that's a great experience for them. But at some point we ought to be better about keeping people here and helping them appreciate where they are as also a place worth studying. It is historical and interesting in its own way."
On the other side of the world, students traveling with math professors J.D. Phillips, Michael Axtell and William Turner will be working with mathematicians at Charles University in Prague. Small groups of Wabash students will spend the week with leading Czech mathematicians on research.
"The faculty looks forward to providing the students with an intense research experience, and exposing them to another culture that few of them would otherwise experience," Turner said.
Political science professor Melissa Butler and economist Kay Widdows will take a group of Wabash men to Brussels and Strasbourg to study the European Union. While studying the politics and economy of the EU, students will visit with various EU officials and Wabash alumnus Brandon Mitchener '87, who covered the EU for the Wall Street Journal.
It's not all work and no play though. On all of the trips students get the evening free to explore.
"Since the students are let loose at night to socialize, they get a great opportunity to meet European young people and talk about the E.U. and the U.S. in the world today," Widdows said. "It's a wonderful expansion of their angle of vision on themselves and the world."
Art professor Gregory Huebner will be taking art majors to New York City, where they'll visit some of the country's most famous galleries and museums. Assistant Professor of History Michelle Rhoades will lead a group of students around France, looking at the sites and monuments associated with their study of World Wars I and II.
One trip will not occur until May when Professor John Byrnes takes students for a nearly two-week trip to Berlin, Germany. Those students will focus on the active use of the German language and immersion into German culture.
Another group of students will be exploring their career interests with a hands-on opportunity in Washington D.C. Six Wabash men were selected to be part of the first Jim Graham Externship Experience, serving one-week-long externships in the D.C. area with Wabash Alums.
Hewitt is Wabash College's Director of New Media/Web Content Editor.
In Photos:
On homepage: Professor John Fischer led students to Greece in 2004.
In photo above: Students traveled to Turkey in 2003.