Professor Placher Visits Ft. Worth School
by Tom Runge • February 27, 2005

Share: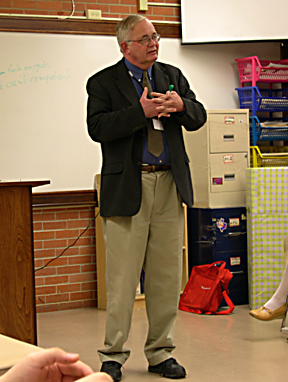 Feb 25, 2005. Professor Bill Placher '70 provided a rare treat to Nolan Catholic High School students as he served as a guest lecturer for three advanced religion classes. The classes all use his book as their textbook. The visit, set up by alumnus Peter Pactor '65 and Nolan religion teacher Mark Rist, came on the heels of Professor Placher's visit with Dallas alumni the evening before.
Placher's wide open discussion technique had students in every class working to move past the "book definition" of religion and into the weighty issues of comparing religions and identifying the underlying differences between the many different faiths of today. Professor Placher's visit also drew attention from former Nolan students as a couple of alumni returned just to be in class. One young man, a sophomore at Texas Tech, drove five hours to sit in on class.
Not only did Bill challenge over 75 Nolan students to continue to explore their religious beliefs but he gave them a rare opportunity to take part in a college-level discussion. Bill's impact was immediately evident as a line of students formed to have their textbooks autographed! That's certainly something you don't see every day.
Many thanks go to Peter Pactor and to Mark Rist for their efforts to make the visit a reality.