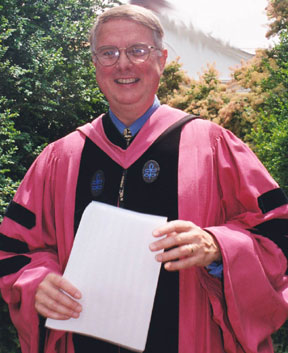 The Wabash College Classics Department invite you to hear speaker, David Kovacs, at 8 p.m. Monday, February 21, in Lovell Lecture Room (room 101) in Baxter Hall. He will talk on "How Serious was Old Comedy: the Case of Aristophanes' Frogs."
Kovacs is a Professor of Classics at the University of Virginia. He is a graduate of the College of Wooster, with an M.A. and Ph.D. from Harvard University. Kovacs has become one of the leading American scholars on Greek tragedy, with numerous books and articles to his credit, particularly on the playwright Euripides. His textual analysis of Euripides has helped to establish the soundness of the Greek text on which any translation and literary analysis of the plays must be based.
One of his outstanding achievements has been the six-volume text and translation of the plays of Euripides for the Loeb Classical Library, a reference work used by every Classicist or any reader who wants to see the Greek text and English translation on facing pages.
He is the author of The Andromache of Euripides: an Interpretation (1980), The Heroic Muse (1987), Euripidea (1994), Euripidea Altera (1998), Euripidea Tertia (2003), and of articles on Aeschylus, Sophocles, Euripides, Aristophanes, Ovid, and other classical authors. 
His lecture is free and open to the public.