IBJ Names Four Wabash Graduates to '40 Under 40' List
by Howard W. Hewitt • February 7, 2005

Share:
For the 13th year Indianapolis Business Journal has recognized 40 Under 40 – a listing of 40 of Central Indiana's rising stars under the age of 40 years.
Four of the honorees were Wabash College graduates. The special publication and brief profile of each was part of the Feb. 7 IBJ weekly.
Edwin Broecker '88, Luke Messer '91, Tim Oliver '91, and Todd Rokita '92 were named to the list.
"It's great to see the IBJ recognize four graduates of Wabash in their 40 under 40 list," said Tom Runge, Wabash College Director of Alumni Affairs. "The Wabash community prides itself in challenging young men to be positive forces in their communities and it's certainly true that Todd, Tim, Luke, and Ed are difference makers."
According to the magazine, a committee of IBJ staff members chose the 40 from a list of 150 nominations submitted by the publication's readers and staff.
"The main criteria for selection are whether a candidate has made significant achievements and whether he or she is likely to continue to achieve," the IBJ reported in naming the 40.
Broecker was a member of the football team and graduated Cum Laude with a BA in political science. The Carmel native is a partner in Sommer Barnard Attorneys, Indianapolis.
What IBJ said about Ed:
"His practice involves representing entrepreneurs and assisting them with technology problems, as well as issues concerning finance, capital formation, mergers, acquisitions, dispositions and real estate.
" … One of Broecker's favorite deals was representing the purchaser of State Plating in Elwood. It was slated to close, and 100 people were going to lose their jobs until Broecker's client came in. The deal came together in a month. Today, the company, one of the largest nickel-chrome-plating operations in the country, is flourishing."
Oliver, who played football and ran track at Wabash, is a member of the Athletic Hall of Fame. He graduated with an economics degree and earned his masters at Butler. He is Senior Vice President for Huntington Bank.
What IBJ said about Tim:
"Oliver is lauded for being able to bring out the best in people. Consider: As manager of Huntington Bank's Business Banking department, he's pulled his associates together as a team, a team that not only works together but sincerely cares about each other, a nominator said.
" … 'Because of Tim's unique style of leadership, his business unit has grown by 50 percent-plus in the three years that he has been here,' the nominator explained."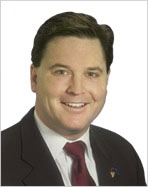 Rokita was a Lilly Scholar who graduated with a political science major. He is Indiana's Secretary of State.
What IBJ said about Todd:
"Under Todd Rokita's leadership as secretary of state, companies can do almost all of their communication via the Internet, saving everyone time and money.
" … Rokita foresees playing a major role in election-ballot reform. He also wants to revamp corporate laws, and he'd like to get more involved in facilitating the state's relationships with global trading partners.
"And as a commercial-rated pilot, he regularly volunteers to transport sick people, often children, to Midwest hospitals for medical services."
Messer, a Summa Cum Laude graduate with a speech major, is currently an Indiana State Representative, Dist. 57, from Shelbyville. Messer was a member of the Little Giant football team during his college years.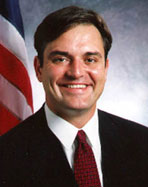 What IBJ said about Luke:
"Messer was recently recognized by the Howey Political Report, a weekly newsletter on Indiana politics, as one of the most influential Hoosiers on the political scene. He's also been honored by the National Journal, a weekly magazine on politics, as 'a rising star in Indiana Republican politics.'
" … Messer loves politics and hopes to have opportunities to embrace more and more leadership challenges, perhaps in Congress or even the governorship. But he noted: 'My first passion in life is being the father of two girls.' "

You can read more about each of the Wabash graduates and the other young people names to the IBJ list in the Feb. 7 issue.





For more information see: