A live music performance highlighted Friday's fifth-annual Celebration of Student Research, Scholarship, and Creative Work.
Andrew McKone and Steve Zusack performed for more than 30 people gathered in a small Detchon classroom. The duo played Sonatina in G Major, Opus 100 for Violin and Piano by Antonin Dvorak.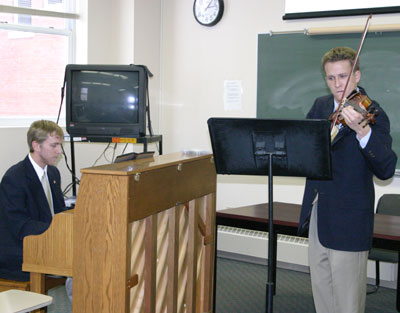 Afterwards, McKone soloed on the violin and Zusack played three piano pieces and even handed out recorded discs of his music.
"This is much different than I'm used to," Zusack '07 said. "I'm used to a very formal concert where you walk on stage, bow, play your piece, bow and walk off and that's it. Speaking in front of a crowd is a much more unique experience.
"I actually like it more because you get to connect with the audience on a more personal level. This is the first time anyone has played music at this celebration. I think it adds a lot because music is an art and amongst all the liberal arts, it's very important."
Organizers obviously agreed the addition was an important one.
"Some years we've had art displays, photography displays; this year we had a (live) musical performance," said chemistry professor Ann Taylor, a member of the Celebration Program Committee. There have been presentations from the music department in previous years, but not a performance of the nature given by Zusak and McKone.
Zusak seemed to particularly enjoy some extra time, due to a cancellation, to play for the audience. When urged to play a Rachmaninoff piece he had planned, he playfully offered up a Jim Brickman piano solo. Brickman is a contemporary artist known for blending classical and pop styles.
The celebration featured 60 Wabash students presented their material using teaching techniques they've learned in the classroom. Approximately half of the students did poster presentations to explain their research.
Daniel Thornberry and Greg Fulmer had two separate tables to explain their chemistry projects guided by Assistant Professor Lon Porter.
"At other conferences its more hardcore chemistry based," Thornberry '05 explained. "Here they see the pictures and someone with a chemistry background might understand what the picture is but they may not understand what it's about. You have to explain what things mean.
"You have to bring it down to a lot more fundamental level. But it's an advantage for me because you have to re-learn all those fundamentals you may have lost or forgotten."
And that is the heart of the celebration.
"It's one of the challenges for students to gauge where people are at when they're preparing their posters or talk," Taylor said. "Who's my audience? I think it benefits the students because they need to be able to talk to both the experts and novices about their research."
Hewitt is the College's New Media Director/Web Content Editor.

For more information see: