In front of a crowd of more than fifty people in Hays Hall, national columnist Dr. Mike Adams spoke about free speech on college campuses. Adams, a one-time liberal, discussed his own battles with university administrators for about an hour. Questions and a book-signing followed the event. The Wabash Commentary, the conservative journal at Wabash, sponsored Adams' appearance.
Senior Mark Novakovich was favorably impressed. "I thought it was very well done. Dr. Adams is very well spoken," Novakovich said.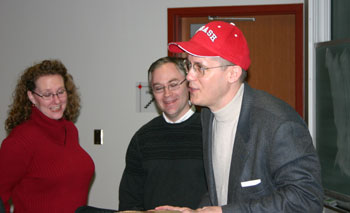 Using his Townhall.com column, Adams has spoken out on many issues, ranging from PETA to religious discrimination. He continued many of those themes in his new book, Welcome to the Ivory Tower of Babel: Confessions of a Conservative College Professor. The book is an indictment of the political correctness movement in academia, and its effects on free speech.
Adams first came to public attention in 2001, when his battle with University of North Carolina officials wanted to read his emails as part of a complaint. The event led to, in Adams' words, "public relations nuclear war." This event was Adams' "conservative coming-out day." It also led to his crusade for free speech on college campuses.
Seeking to "expand the marketplace of ideas," Adams promoted student-led activities to promote free speech. Such free speech is "an American thing," Adams said. Furthermore, Adams made it clear that students should be leading the charge for free speech on university campuses. "I don't think we should get in the business of treating students like children," Adams said.
Adams spent some time discussing strategies for students. Calling for a "three-pronged attack," he encouraged students to appeal to the courts of public opinion and law, and, if necessary, donors. However, he also discussed his view that a serious discussion should represent all viewpoints — liberal and conservative. He also stressed the importance of freedom and its fleeting nature. "Liberty is a precious thing," he said.
Despite the serious subject matter, Adams frequently used humor to make his points. But, in keeping with his radical past, there was also a tone of defiance. Referring to officials who actively seek to block free speech, "we want you to know you don't have an option anymore," Adams said.
In Photo: Adams, wearing a Wabash cap, signs books after his lecture.
Smith is a writer for The Bachelor, Wabash's student newspaper, and The Commentary.

For more information see: