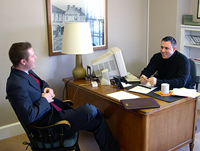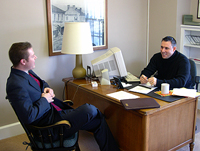 Steve Woods (r) interviews a student
Dave Reed '89 and Steve Woods '93 spent the day on campus conducting mock interviews for Wabash students. The idea is to offer our young men the opportunity to go through the interview process and immediately receive constructive feedback from professionals who are constantly conducting interviews.
Woods and Reed said they really enjoyed the experience. Both rated their sessions from average to excellent, stating that one of the biggest differences was the level of student preparedness. Woods and Reed also stated that the notion of a "mock" or "practice" interview just isn't so - there's always an employment opportunity possible. If fact, one of them stated that their firm is currently looking to hire someone in sales and the visit to the Schroeder Career Center just might yield such a person!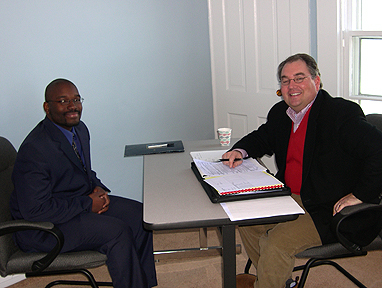 Dave Reed (r) covers some fine points
Many thanks to Dave Reed and Steve Woods!