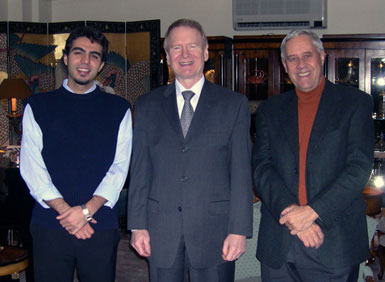 The Istanbul chapter of the Wabash Alumni Association may be small in number (three, as far as we know), but the fact that Dr. David Arnett '65 is our country's Consulate General in this great city raises our profile considerably.
The other members of our chapter are Eric Farber, also of the class of '65 and Donem Tokgoz. Eric, together with his wife Kay, teaches English at an Istanbul language school while Donem has recently returned to his native city from Indianapolis where he lived and worked after graduating in '03.
On January 16th, Dr. Arnett and his wife Vivi graciously hosted our chapter's first gathering in the Consulate General's Residence where the accompanying photo was taken.
Pictured from left to right are Donem Tokgoz, Dr. Arnett and Eric Farber.