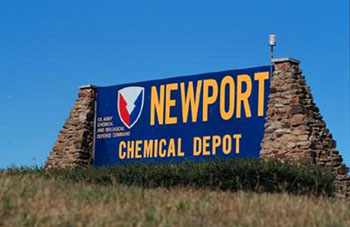 The disposal of tons of nerve agent at Newport Chemical Depot will be the topic of two presenter's remarks at today's Women on Campus Meeting.
Susan Gilman, Outreach Office Manager, and Debbie Landers, Lab Operations, will speak about the controversial disposal of the deadly agents stored at the Newport facility.
The Depot is about 50 miles southeast of Crawfordsville. The site has been used by the U.S. Army as a production site of various materials since 1941. But it was in 1959 that the Army awarded a contract to the FMC Corporation, New York, for the design and construction of a facility to produce the chemical agent VX. The facility was completed in 1961 at a cost exceeding $16 million.
VX is a rapid-acting, lethal nerve agent. Weapons such as land mines, spray tanks and rockets were shipped by rail, filled with VX, to Newport. President Richard Nixon halted the production of chemical weapons in 1968. The final two batches of 1,269 tons were left in storage at the Depot. The agents are highly secured and guarded 24-hours a day.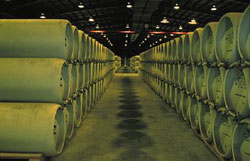 The Chemical Weapons Convention treaty, ratified in 1997, requires the U.S. to destroy all its chemical weapons and production facilities by 2007.
The Army awarded a $295 million contract in February 1999 to Parsons Infrastructure and Technology Group Inc., along with AlliedSignal, to design, build, operate and close the disposal facility. They intend to dispose of the deadly nerve agent through a low-pressure, low-temperature neutralization process.
The 12:10 p.m presentation in the International Hall of the Detchon Center is open to everyone.
For more information see: