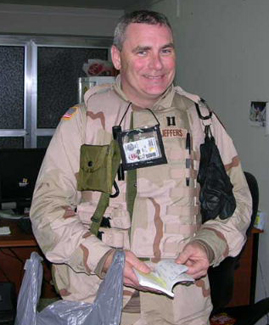 Tim Jeffers '87, a veteran public affairs and media specialist in the Indiana Statehouse, is now working for a key Lt. General in Iraq.
Jeffers was recently activated by the Army Reserves for duty. He has worked as executive assistant to the Speaker of the Indiana House of Representatives and most recently as director of public affairs for the Indiana Department of Commerce.
Jeffers told Wabash professor David Hadley he thought his active service eligibility was past until he received a letter from the Army last fall.
Jeffers has a website, with a link below, where he posts pictures and regular updates on his Iraq experience.
"I arrived in Baghdad on Christmas Eve," Jeffers wrote Dec. 29, 2004, to his website. "Unfortunately, it was a cloudy evening with no bright lights or stars shining in the sky. And, I might add, there have been no wise men sighted to date!"
Jeffers reported he was living in a trailer about 100 yards from the U.S. Embassy.
He is assigned to the Public Affairs Office, Multi National Security Transition Command-Iraq. The unit supports Lt. General David Petraeus, a three-star general, who is in charge of training Iraqi police and military units.
"The mission is to get the word out on the activities of various Iraqi security forces," Jeffers wrote in his Dec. 28 entry. "Hopefully, our work here will aid in the effort to get our troops home as soon as possible."
His website includes his photos and occasional writing, how to contact him by email and how to send care packages.
The Coatesville native was a Wabash College political science major and Lamda Chi Alpha member.