To the Happy Few
by John Zimmerman H'67 • March 31, 2004

Share:
Between 1961 and 2003, no one spent more time in Goodrich Hall than Professor of Chemistry John Zimmerman H'67. Teaching generations of students in the classrooms, working with them in the labs, photographing their poster sessions in the hallways, and working late into the night on various teaching, photography, and video projects--it seemed the light in Goodrich 108 was always on.
So John was surprised not to feel pangs of loss when he and the rest of the chemistry and math departments cleared out so that Goodrich could be gutted and renovated as the new home for physics, computer science, and mathematics.
"I wondered about that," says Z. "But the colleagues I've lost that made that building meaningful--people like Ed Haenisch--aren't there anymore. I have my memories, the building has done its job, I've done mine, and we were moving into an amazing new facility. It's really like starting over again."
The one thing he didn't want to lose--the elevator shaft wall, where chemistry majors since 1953 have signed their names upon graduation-- he was able to take with him in photographs.
"There's a story behind every name," the professor says. We sat down with him one afternoon to look through the names and hear a few of those stories.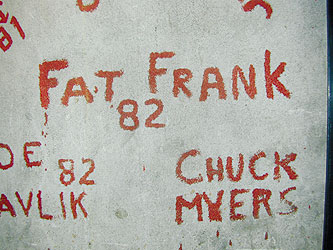 Joe Pavlik, a member of that great Class of 1982. His buddies were Chuck Myers and Frank Kolisek. I asked Frank, "What do you want to do in college?" and he said, "I want to punt, kick, and go to medical school." And he did all three. For his last game, Myers and Pavlik hung a huge sign from the south end of Goodrich that said "Go, Fat Frank!"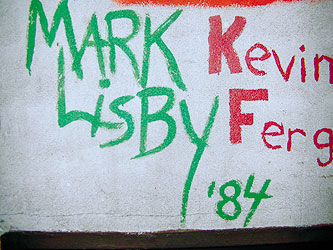 Mark Lisby got caught up in the excitement of the Eugene McCarthy campaign in 1968. He dropped out of school for a while to work for him, but he returned and graduated.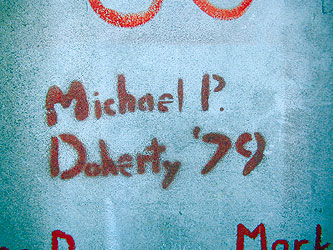 Michael Doherty '79, one of three Dohertys--Michael, Tom, and Steve, all Ph.D.s now. Michael was also the first music major at the College, and an incredible pianist. He performed a senior recital duet with David Greene, the head of the music department. He walked out with this perfectionist music professor and really held his own. We were rooming together at a meeting and I remember him talking on the phone to his "sweetie," as he always called her. When he hung up, he looked over at me and said, "Isn't life wonderful?!"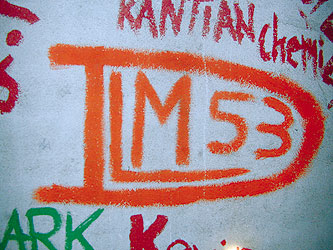 Donald Lee McMasters '53, from Newport, Indiana, the first name in the shaft, and with beautiful script, which is not surprising: Don has been very supportive of the arts at Wabash.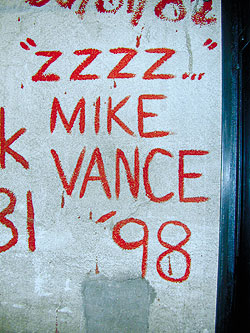 Mike Vance '98-- the "ZZZZ" is a reference to his sleeping problem. If he came to see you and you were five minutes late, he was sacked out on the floor! But by the time he graduated, he'd conquered that, and he was ahead of the game all the way. Both he and his wife worked for Lilly for two years, and now they're at Stanford.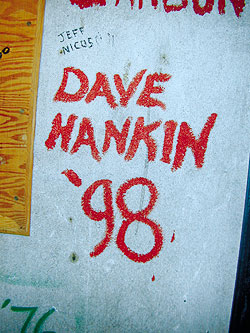 Dave Hankin '98, the only chemist to play nothing but cross-dressed roles in the theater. We thought that was pretty cool! He was really funny in the plays, and a good student. Mike Need '84 came to Wabash along with another student named John Helvie '84. They'd gone to grade school together, high school together, then college together. They were both Phi Gams, and they graduated and went to medical school together. Now they're both anesthesiologists in Indianapolis.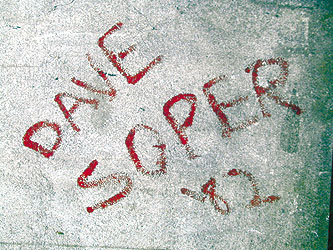 David Soper '82 came from a family of medical missionaries, very committed, and he played the trombone with a lot of energy.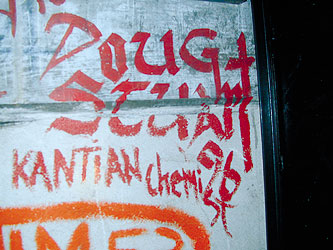 The Kantian chemist, Doug Stuart '96, an English major, a very good actor who played a critical role in the play Frogs, went to Oxford to study English literature, came back to be a chemistry major, is now a Ph.D. candidate in chemistry at IU. Why the Kantian chemist? I'd like to know.

Steve Pruett '81--a French/chemistry double major, he came into my advanced quantitative analysis class absolutely scared, because he'd never done anything like it before. But he did just fine.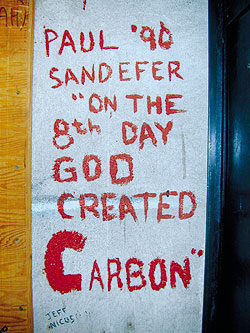 Paul Sandefer '90 loves organic chemistry, hence the inscription. He was an exceptional student who went from here to University of California--Berkeley, which is not easy to do. But he got in and worked with an amazing chemist there.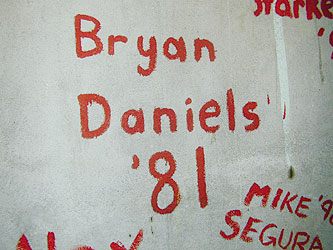 Bryan Daniels '81--back when you could make money on silver, Bryan bought all of it he could--housewives were coming to his room in the Phi Gam house trying to hock their silver on him! He was traveling somewhere in the East when the bottom fell out of the silver market and he was stuck with the stuff. He's in the investment banking business in Chicago now.