Jazz Masters Jam with Wabash Students
by Steve Charles • January 29, 2004

Share: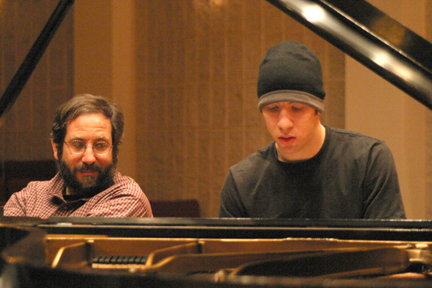 DeGreg works with jazz combo pianist George Colakovic

Jazz piano master Phil DeGreg, bassist Paul Keller, and percussionist Tim Froncek spent the two days leading up to their performance at Wabash working one-on-one with Wabash students.

Wabash music professor Judd Danby arranged for DeGreg and his colleagues to meet in separate hour-long workshops with the College Jazz Band and Jazz Combo and give individual lessons to many students prior to the Wednesday night performance at Salter Hall.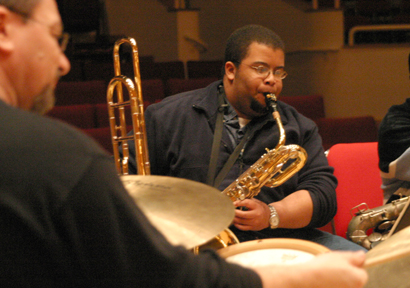 Drummer Tim Froncek jams with James Boyd '06

Following a noon time session where the trio played Herbie Hancock's "Maiden Voyage" along with Wabash Jazz Combo sax players James Boyd '07, Desmond Risper '08, Sam Kesee '04, trombonist Dan Ristine '04, and pianist George Colakovic '06, DeGreg talked with students.

"If you learn the standards, and memorize them, you'll be able to go anywhere in the world, sit down and play with a musician from a completely different background and culture," DeGreg said. "And you'll have a deeper understanding between the two of you than any shower of conversation could ever provide."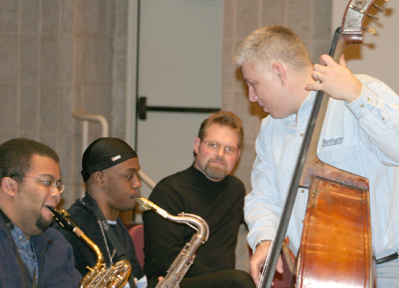 Bassist Paul Keller instructs James Boyd and Desmond Risper '07

DeGreg performed at the Salter Hall January 28 as part of the College's Visiting Artists Series.