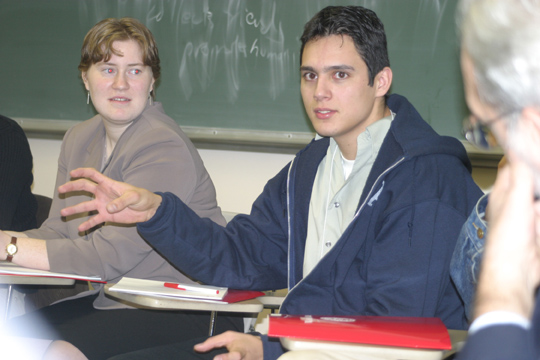 Wabash junior Carlos Carillo tells faculty and fellow students about his internship in San Cristobal, Chiapas, Mexico.
Wabash physics major Matt Miller '04 convened the first Student Conference on Global Studies and the Liberal Arts at Wabash College with a quote from Albert Camus' "Notebooks":
"When we are so far from our own country...we are seized by a vague fear, and an instinctive desire to go back to the protection of old habits. This is the most obvious benefit of travel. At that moment we are feverish but also porous, so that the slightest touch makes us quiver to the depths of our being."
"Studying and working abroad liberates us from false perceptions," Miller added. And for the next 12 hours, students from Wabash, DePauw University, and Earlham College shared with faculty, staff, and their fellow travelers the ways that living in other countries have enriched their knowledge of other cultures and deepened their understanding of themselves.
Part of a three-year project to assess the impact of international experiences on a liberal arts education, the conference brought together students with a wide range of experiences, including DePauw writing major Jeff McWorter, who spoke eloquently of political, personal, and economic challenges of the people in the Intag region of Ecuador.
Classmate Erin Goss described her own work with DECOIN (Defensa y Conservacion Ecologica de Intag), a non-governmental organization there.
Wabash sophomore Reynaldo Pacheco recounted directing the Indigenous Theater in San Cristobal, Chiapas, while senior Joe Warfel used his experiences riding public transportation during his semester in Santiago, Chile, to give conferees a videotaped window into that culture.
Wabash's Greg Bercos '06 and Anthony Lodbell '05 described their short-term immersion experience as part of the College's Ecuador program, and Jeremy Robinson '04, who spent a semester in Salamanca, Spain, living with a local family, endorsed the idea of home-stay while studying abroad.
"There were a great variety of stories told during the conference,"says conference co-sponsor and Wabash history professor Rick Warner. "In one of the final sessions, Ben Scanlon '04 and Chris Jorgensen '05 discussed issues related to the European Union, and the depth of this conversation was greater than many hours of library research could offer. I realized that their international experience not only motivated these students, but that they understood what they had studied far better after mixing with Europeans.
"All of these students believe they have been profoundly changed by their experience, and some were able to articulate this better than others," Warner says. "Some of them presented fine academic work that grew from the experience, others participated in conversations that help us think about the personal and academic growth of students in international experiences, and some spoke of the process of getting to know another culture better, which allowed them to reflect more clearly on our own.
"Their efforts made this conference a resounding success," Warner says. "It is very difficult to assess the influence of international experience on a liberal arts education, but that's precisely the purpose of our three-year project, of which this conference was one element. I am compiling notes we took during the student presentations and we'll use them to continue our own conversation about patterns and themes in international education."
The picture of faculty diligently taking notes during student presentation was an encouraging role-reversal for Warner.
"The faculty were in a listening mode: we were truly learning from our students," Warner says. "That's liberal arts education at its best."