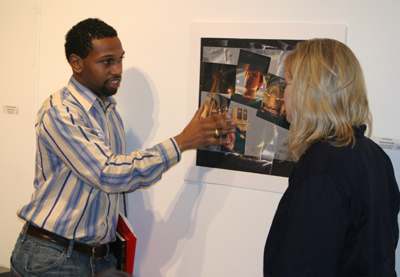 Nate Quinn '00 critiques a student's work
The artistic process, inspiration, and careers for undergraduate art majors were the central themes of the Fifth Art Bash program sponsored by the Wabash College Art Department.
The brainchild of Art Professor Greg Huebner, Art Bash is a program that brings to the college every three years high school art teachers and their students for focused conversations on the study of art at a liberal arts college. This year over 70 participants from Indiana and Illinois took part in the program.
Art Bash was held in conjunction with the opening of the second gallery exhibition of the 2003-2004 gallery season at Wabash. Called "Safe Haven," the exhibition features works created by the student participants in the Art Bash program.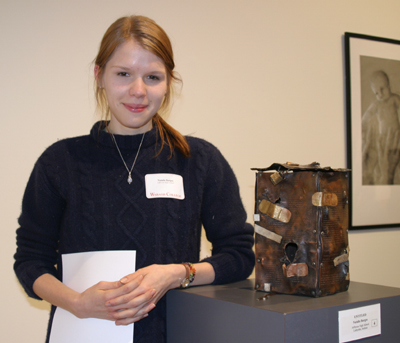 Natalie Borges won Best in Show for her sculpture
Wabash's student art majors also took part in the program, and discussed with the high school students what it is like to study art at a liberal arts college. The students were also involved in an open critique session of the "Safe Haven" collection, which featured each student's interpretation of what "safe haven" means in today's world.
Thirty-nine students from 11 high schools entered their work in the exhibition, which was judged by Wabash's art faculty. Natalie Borges of Lafayette Jefferson High School won Best in Show for her sculpture. John Haddock, a native of West Lebanon, Indiana and senior at Seeger High School, won second place for his mixed media work. Laelle Busch of Harrison High School in West Lafayette earned third place for her work entitled "Tree House," a wood cut print.
"This was one of our most successful programs to date," said Huebner. "The quality of discussions was first rate and all the work is wonderfully honest and in many instances the work is first-rate."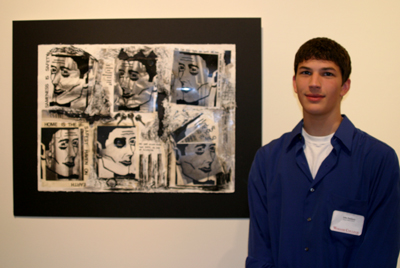 John Haddock earned second place for his mixed media piece
The Art Bash program began with a panel presentation of Wabash College alumni who majored or minored in art discussing how art has informed their careers. Participating were Robbie Brundige '90, an architect with Fitzgerald Associates in Chicago; Tom Denari '85, who is an executive vice president at the Indianapolis advertising firm of Young and Larimore; Chris Rozzi '90, senior graphic designer for the Indianapolis Children's Museum; and Nate Quinn '00, who is a Broadway set designer and practicing artist in New York City.
Wabash's art faculty of Huebner, Professor Doug Calisch, and Art Historian Elizabeth Lee presented a panel talk on various aspects of the creative process.
Calisch, who teaches sculpture, photography, and 3-D art, discussed the creative process and ways for teachers to work with their students throughout the creation of a piece.
"Teachers should allow students to customize and personalize their projects," he said. "Set up situations that allow students to test ideas by making art; select projects that allow you to discuss with students their in-progress discoveries."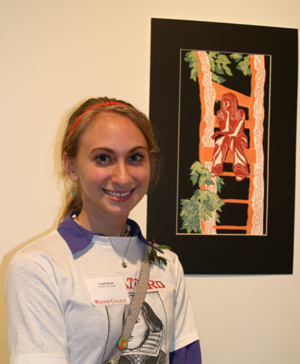 Laelle Busch won third place for her wood cut print
Lee, the newest member of Wabash's art department, discussed why she thinks it's important to study art in a liberal arts environment.
"At the graduate school level, art history departments are separate from the art making departments," she said. "At Wabash and most liberal arts colleges, they are together and feed off one another.
"We live in a visual culture and most people don't stop to think about what they see around them. Art history teaches you how to look and how to better understand what you see in movies, advertising, and on TV. Art history gives you the ability to see the richness of the visual world and really understand and appreciate it," Lee said.
Huebner described his own creative process and how he draws inspiration for his paintings.
"Inspiration is everywhere, but at the same time it's one of the biggest challenges students face. The key for artists is to stay open, have an open mind, keep the antenna up, and be aware of everything around you."