Pulitzer Prize Winner Delights Wabash Audience
by Jim Amidon • September 26, 2003

Share: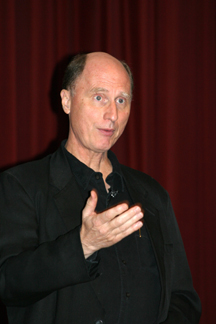 Robert Olen Butler

Award-winning novelist Robert Olen Butler delighted a packed house of anxious listeners as he read from his newest fiction. Butler is the first guest in the Will Hays, Jr. Visiting Writers Series, and spent three days in residence at Wabash. In addition to discussing his work in several English Department classes, Butler was a key part of the Department's "Creative Writing/Creative Teaching" outreach program.

Butler won the 1993 Putlitzer Prize for fiction for his ground-breaking novel A Good Scent from a Strange Mountain, one of 12 published books by the native of Illinois. Since 1981, he has published nine novels including, The Alleys of Eden, Sun Dogs, Countrymen of Bones, On Distant Ground, Wabash, The Deuce, They Whisper, The Deep Green Sea, Mr. Spaceman, and Fair Warning, and two volumes of short fiction, Tabloid Dreams and A Good Scent from a Strange Mountain.

His stories have appeared widely in such publications as The New Yorker, Esquire, The Paris Review, Harper's, GQ, Zoetrope, The Hudson Review, The Virginia Quarterly Review, and The Sewanee Review. They also have been chosen for inclusion in four annual editions of The Best American Short Stories, seven annual editions of New Stories from the South, and numerous college literature textbooks.

During his public reading at Wabash, Butler read from two still-to-be published works of short fiction. The first series of stories he read are part of a grand collection of very short pieces of just 240 words.

"I revisited Vietnam in 1994 and was taken by an old French guillotine I had seen in a museum there," said the Vietnam veteran. He went on to tell the crowd that throughout history there has been speculation that beheaded brains contain enough blood to function for about 90 seconds, and unrelated research indicates that in times of stress, a human being can utter 160 words a minute. All of his stories are about famous people throughout history who have been beheaded. "So all of the stories in this collection, entitled "Severence," will be exactly 240 words," he said as he began to read five of them to the audience.

Another collection, set to be released in late summer 2004, is entitled Had a Good Time. The series of 15 stories is based on old picture postcards collected from 1907 through 1911. The basis of the fiction are the short, concise messages scribbled on the back of the postcards that were penned before telephones had made their way across America.

A recipient of both a Guggenheim Fellowship in fiction and a National Endowment for the Arts grant, he also won the Richard and Hinda Rosenthal Foundation Award from the American Academy of Arts and Letters and was a finalist for the PEN/Faulkner Award. His short story "Fair Warning" won a 2001 National Magazine Award in Fiction which is the basis for his new novel of the same name. He was also a charter recipient of the Tu Do Chinh Kien Award given by the Vietnam Veterans of America for "outstanding contributions to American culture by a Vietnam veteran."

Since 1995 he has written feature-length screenplays for New Regency, Twentieth Century Fox, Warner Brothers, Paramount, Disney, and Universal Pictures and two teleplays for HBO.

He is the Francis Eppes Professor holding the Michael Shaara Chair in Creative Writing at Florida State University in Tallahassee, Fla., and is married to the novelist and playwright Elizabeth Dewberry.

Professor Butler's three-day visit to Wabash was sponsored by the Will Hays, Jr., Visiting Writer Series. Butler is the first writer in this series, which is supported by a generous gift from the Hays family to celebrate Mr. Hays' distinguished career as a writer, public servant, supporter of secondary and higher education, and alumnus and trustee of Wabash College.