Jane Hardy lived in Spain for a year. She lived in Slovenia for five. She taught in China for three summers. She taught in France for one. She has traveled with students and faculty to Ecuador as part of the Wabash Summer Study Program since 2008.
But Wabash College will always be home. Hardy, an associate Spanish professor and department chair, is the 2021 McLain-McTurnan-Arnold Excellence in Teaching Award winner.
"There couldn't be a greater honor," Hardy said. "It's especially humbling because I teach at a school with so many really talented and dedicated teachers. It makes me grateful to my colleagues, because I learned a lot from them. It makes me feel motivated to keep working at it."
But whether she's teaching in her Detchon Hall classroom or halfway across the globe, the trait she tries to instill in her students remains the same.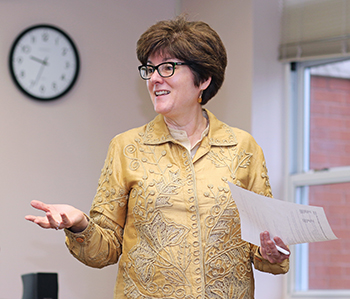 "It comes down to empathy," she said. "If someone has never interacted with people who come from somewhere else and who live in different circumstances, it's really hard to see refugees at the border and understand what they've gone through — to understand the hardships, the suffering and the dire living conditions that would prompt someone to walk hundreds and hundreds of miles to try to cross a border.
"Living abroad helps people to develop that empathy and to understand other people's living conditions. It's hard to develop that empathy if we don't have close personal interactions with people who are different from us in any variety of ways."
"The dedication as a teacher shown by this year's winner serves as a model for us all. This year's winner is a teacher's teacher who constantly strives to improve her classroom practice, someone whose personal research is invested in questions of effective pedagogy," Acting Dean of the College Todd McDorman said of Hardy during the virtual awards chapel on April 29. "Our winner expands students' horizons and pushes them to encounter the wider world and become global citizens. To that end, this faculty person is a staunch supporter of international education. She is also caring, empathetic, always there for students, an important part of their support network. She is a steadfast ally to students from diverse backgrounds and LGBTQ+ students."
Hardy recognizes the value in pushing students outside of their comfort zone. When she takes students abroad each year, she frequently travels with students who are flying on an airplane or outside the country for the first time. While some students express hesitancy, the risk is always rewarded.
Some of the benefits are academic. Hardy specializes in linguistics. No amount of classroom experience can replicate being fully immersed in a culture.
"Their language skills improve tremendously when they're immersed in the language 24/7 more so than if they're here in the classroom three or four hours a week," she said. "There's just no comparison."
But the biggest impact comes in other ways. When they visit Ecuador, students who have never used public transportation learn to navigate the capital city of a country 3,000 miles from home. They return to campus confident in their abilities to navigate their surroundings.
"We live in a global society. In order to be effective in your career and in your future, you have to be accustomed to interacting with people who are different from you in all variety of ways," she said. "They come back being more world citizens than they were when they left. It does give them a different perspective on the United States, what we have here, and maybe cultural values that are different. Maybe they start to see things we do that they're not satisfied with."
Her father, Charles Hardy, graduated from the College in 1955. She joined the Wabash College faculty in 2006 and is married to Associate Professor of Economics Peter Mikek, who won the McLain-McTurnan-Arnold Excellence in Teaching Award in 2020.
She calls it "a coincidence" that she and her husband ended up teaching at the institution she heard so much about growing up. But maybe it's where she was meant to end up all along.
"We're a Wabash family," she said. "Peter and I are both very much devoted to the institution. Now I understand why my father has always loved Wabash so much. It's a unique place. It's a special place."