The Chief Justice Earl Warren Professor of Law at the New York University School of Law, Kenji Yoshino, delivered a virtual keynote address at the David W. Peck Lecture and Awards Banquet, the annual Wabash Prelaw Society honors program. The career of this year's recipient of the Senior Peck Medal for Eminence in Law is highlighted with education, advocacy, and scholarship within transgender rights.
Yoshino's insightful lecture, "Trans Rights Unlimited: Lessons from Trans-First Jurisdictions" walked viewers through current law and transgender issues. Prior, he was introduced by Riley Floyd, the 2013 Junior Peck Award winner, and an associate with Hoover Hull Turner LLP.
"Professor Yoshino works on the cutting edge, where law and other disciplines like literature, join forces to affect social change," Floyd said. "He invites his readers to experience his work by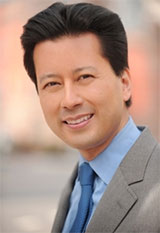 feeling it, because as he says in his memoir, Covering, 'law wields a brutal coercion literature cannot approximate, yet literature has a power to get inside us to transform our hearts and minds in a way law cannot.'"
Yoshino's lecture started with an overview of transgender rights broken into two categories. He described how some countries, even with strict gender structure, approve and support those who transition from one gender role to the other. Such a structure allows for trans rights to be strong because traditional gender roles are reinforced, even though it doesn't recognize homosexuality because it upsets the existing social structures and traditional gender roles.
Further, Yoshino discussed unlimited trans rights, which do not include strong gender roles, and allow for fluidity. Because the law does not recognize and hold up those gender structures, trans people are protected in such jurisdictions.
After discussing trans rights in a few countries throughout the world, Yoshino turned his attention closer to home.
"United States jurisprudence is currently trying to decide between two visions of trans rights, limited trans rights and unlimited trans rights," he started. "Which country are we? Are we a country of limited trans rights? Or are we a country with unlimited trans rights? I want to say that there are some signs that we're moving towards unlimited trans rights, but that battle is by no means won."
Following his lecture, Yoshino spoke of the human side of the legal discussion.
"If you go back to the scholarship of Jonathan Rauch and LGB contacts, he said that the best argument that gay people can make for themselves is we exist," said Yoshino, who is also the Director of the Center for Diversity, Inclusion, and Belonging at NYU. Further, he said, "Society is waking up to the fact that trans individuals exist, and in fact, not just trans individuals who transition from one gender to another, but trans individuals who are non-binary, exist and they are our colleagues, friends, and our family members. Society will recognize that trans individuals have always existed and will always exist."
Before conferring the Senior Peck Medal for Eminence in the Law, Wabash President Scott Feller spoke of an appreciation for Yoshino's liberal arts background as the foundation for stellar work in the law.
"Drawing upon your own skill in literature as a memoirist and an analyst, you have transformed hearts and minds," Feller said. "As a result, you've moved us closer to becoming a more fair and just society."
The David W. Peck Awards Banquet event was established by long-time Trustee John P. Collett 1924 in tribute to his dear friend and fellow Trustee David W. Peck 1922. Peck enrolled at Wabash at age 16, graduated at 19, and had finished Harvard law by 22. He had a long and distinguished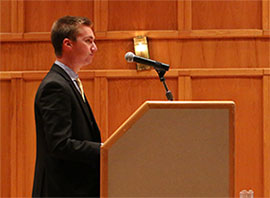 career as a judge and partner in the New York law firm of Sullivan and Cromwell.
Held each year since 1974, the event serves as a unique opportunity for Wabash students interested in the law to meet lawyer alumni and to benefit from the wisdom of the Senior Peck Medal recipient. Recently, the event has evolved so that the Peck Lecture could involve the entire Wabash community and celebrate the connections between the liberal arts and the law.
Prelaw Society award winners were announced as follows:
Junior Peck Medal: Jake Vermeulen '21
James E. Bingham Award: Matt Chinn '21 and Joseph Deiser '21
William Nelson White Scholarship Award: Will Osborn '21
Joseph J. Daniels Award in Constitutional Law: Cooper Smith '23
Senior Peck Medal: Kenji Yoshino, Chief Justice Earl Warren Professor of Law at the New York University School of Law and Director of the NYU Center for Diversity, Inclusion, and Belonging
"This year's address by Professor Yoshino did exactly what we hoped it would do: provide education for the entire Wabash Community about an important current issue in the law from an eminent lawyer who relies heavily on his own liberal arts background," said Associate Professor of Political Science Scott Himsel, who oversees the Wabash prelaw program. "As President Feller said in presenting the Senior Peck Medal, Prof. Yoshino's advocacy for the inclusion of all citizens provides a great example of how to live out Wabash's mission statement: to think critically, act responsibly, lead effectively, and live humanely in a difficult world."
Matt Chinn '21, a Bingham Award winner, appreciated being recognized, but he was just as pleased for the support in his journey to law school.
"Between the LSAT, applying to schools, and choosing one, the path to law school is not always easy," Chinn said. "Dr. Himsel, Dr. (Lorraine) McCrary, and the whole prelaw program helped me make my dreams of attending law school become a reality. It does feel good to be recognized for the countless hours of work I have put toward my goals, but I could not have done it without the strongest support system a student could ask for."