Houston Mills '85, a U.S. Marine Corps veteran and Vice President of Flight Operations for UPS, piloted the first shipment of the Pfizer COVID-19 vaccine to the Louisville Muhammad Ali International Airport Sunday. From there, the vaccines were distributed to all parts of the country, with frontline health care workers expected to be among the first group this week to receive doses.
"I was very humbled and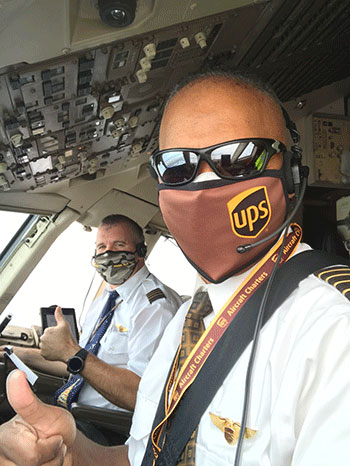 honored to have been selected to be the pilot of this first flight," said Mills, who co-piloted a Boeing 757 airliner with Neal Newell, a former U.S. Air Force F-16 pilot.
His efforts in delivering the COVID-19 vaccine have roots in the teamwork that have served Mills well in his journey from Wabash to the Marines to the largest delivery company in the world.
"This moment is not about me at all," Mills said. "It's about the team – all of the scientists who worked so hard to create the vaccine in record speed, first responders, doctors, and nurses that are helping save lives every day. We had the opportunity to be another team player in the process, and that's quite phenomenal."
Mills said this time of the year is typically busy for the Louisville-based shipping giant due to the holidays. With the pandemic, UPS has spent the last few months working hard with officials from Operation Warp Speed, the federal government's coronavirus vaccine task force, to prepare for distribution. This is on top of the more than 50,000 lifesaving shipments that UPS delivers to hospitals around the world daily along with 24 million pounds of personal protective equipment.
"What this flight represents is the beginning of the end," Mills said. "This historic moment is about hope."
Wabash's lasting impact
Mills' beginning started at Wabash College.
As a first-generation college student from Indianapolis, Mills was an English literature major and political science minor, pursuing a pre-law degree. He was recruited to the College to play basketball by longtime coach Mac Petty H'82.
"He was a super young man," said Petty of his starting point guard back in 1984 and '85. "He was always positive. His smile and attitude were infectious. He's always been a leader."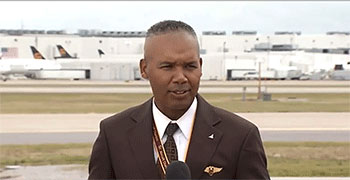 During his time at Wabash, Mills also joined Lambda Chi Alpha, Sphinx Club, and was actively involved with the Malcolm X Institute.
"From day one, he was a class-act — always committed and hard working. He was someone that you knew had the highest degree of integrity. He stood out in that way," said Trustee Greg Estell '85, founder of The Estell Group LLC.
Classmates and fraternity brothers, Estell remembers being struck by Mills' positivity when they met on Freshman Friday during orientation in 1981.
"Even when talking about things that upset you or worry you, Houston's outlook is always, 'Here's how we can make it better' or 'Here's how you have to address those challenges and find strength,'" said Estell, who was texting with Mills days before his historic flight last Sunday.
Mills joined the U.S. Marine Corps while at Wabash. He remembers working out on campus in preparation for basketball season when a recruiter approached him and presented the opportunity serve his country and pay for his education.
While at Basic Officer Candidate School one summer, Mills saw an air show and was mesmerized by the combat aircraft. He remembers thinking, "'What would it take to fly one of those airplanes'" at a time when "I didn't know the difference between a rudder and aileron."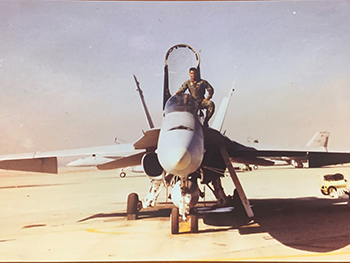 Because of the lessons he learned at Wabash, Mills wasn't afraid to tackle a new challenge.
"Moving from law to this highly technical area of aviation was not difficult at all. It was a matter of learning how to learn and how to think critically," Mills said. "Because of the experiences I had at Wabash with Lambda Chi Alpha, MXI, and the basketball team, I learned how to work with different types of people from different types of backgrounds.
"When I joined the Marine Corps, I assimilated very easily. Because of the critical thinking skills, I was very fortunate to finish at the top of my class when I graduated from flight school. Subsequently, I became a fighter pilot, flying the F-18."
Mills began his aviation career in 1985 as a Marine Corps officer and F-18 fighter pilot. He served as an air combat tactics instructor and supported ground units in the Persian Gulf War as a forward air controller during Operations Desert Shield/Desert Storm. He flew missions during Operation Southern Watch and has more than 100 aircraft carrier landings to his credit.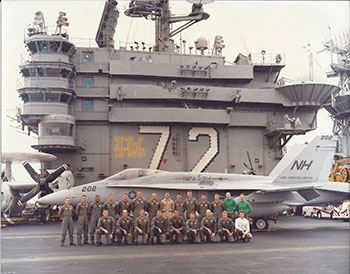 Mills joined UPS as a DC-8 flight engineer in 1994. He was promoted into management six years later and has held positions of increasing responsibility in human resources, flight training, flight standards, and flight operations. Last year, he rose to Vice President of Flight Operations, where he oversees the flight- and safety-related operations of UPS Airlines.
"Wabash always fights," Mills said. "That runs parallel to what I learned in the Marine Corps and what I do today in the spirit of UPS."
Inspiring Little Giants
Marc Nichols '92, President of the National Association of Wabash Men and General Counsel for Saab NA in New York, said Mills is a perfect example for current and former students.
"Here is a man who has worn the uniform and served his country as a graduate of Wabash," said Nichols, a Lambda Chi Alpha brother who serves on the fraternity's national diversity and inclusion advisory board with Mills. "If there is one thing that I think every Wabash man would expect of another is to live humanely. It makes a whole lot of sense for a Wabash man to be in the middle of one of the biggest health crises of our times and helping to solve it."
"Houston is an indicator of what Wabash teaches," Petty added. "Who he is and what he's done in his life, like helping fight COVID, is what we all want from our young men."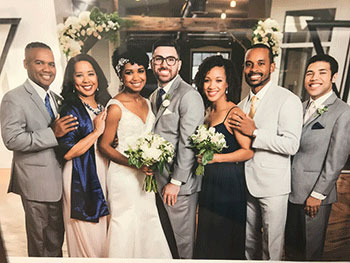 From his wife and three children to Coach Petty and his Lambda Chi Alpha brothers, there are many people who have helped Mills succeed. He's thankful for those impacts with each flight and delivery.
"If there's one thing I learned about this pandemic, it's how important family and friends are," Mills said. "The material things, and everything else will come and go, but to be with people that you care about is so important. I'm elated that this moment represents a return to us being closer to people we love most."