"I've had a really weird year."
Professor of History and Religion Robert Royalty was succinct in summary. That's not usually how professors talk of their sabbatical.
They'd rented a flat. Bob and his wife, Anne, would be based in the United Kingdom. He would be teaching at Harlaxton College in Lincolnshire and planned research on Jesus in Israel. He would be re-creating a Hadrian's Wall walk, following Jesus' footsteps through Galilee and Jerusalem.
After a family wedding in Maine, Bob and Anne were on the way to the airport in Boston on a Monday night preparing to catch a flight to the U.K. when the phone rang.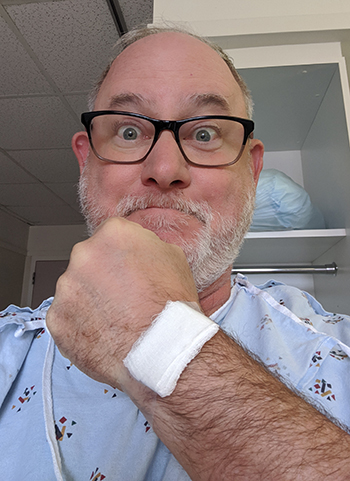 It was cancer.
Bob's urologist had previously told him blood work indicated he was in the high-risk category for prostate cancer. The biopsy had confirmed it.
The call led to a flurry of questions, the biggest of which was "Where could we do this?" The couple had rented out their Zionsville home for the year. Hunkering down wasn't an option.
A high school friend, who is a retired urologist, helped him settle on treatment based in Atlanta, while also providing the reassurance to head to London. Bob would return to Atlanta in September for tests and again in October. Unfortunately, once it all was scheduled, that rendered attempts at research useless.
"It was very distracting, thinking I had cancer," Bob says. "We tried to enjoy ourselves as much as we could. We went to Cambridge and the British Library, where I was supposed to do all my work. But your mind wanders, and I didn't have the focus I did going into the project."
With the research tabled, Bob went through the formality of canceling all of the plans in Israel, focusing on his health, writing a blog, and preparing for the spring. Follow-up tests continued to come back clear as Bob dove headlong into the spring semester at Harlaxton.
He says he had a good group of students whom he got to know very well. Generally, things were progressing well until March. On March 10, he went for a PSA blood test, which came back clear. A dose of good news even as the pandemic had swept into London.
A day later, Boris Johnson, the British Prime Minister, announced the coronavirus-related travel ban, which forced the entirety of Harlaxton to head home. Unlike the students, Bob and Anne had no place to go.
While students and colleagues made a beeline for home, the pandemic set in motion a whirlwind of travel for the Royaltys…just to get somewhere close to home.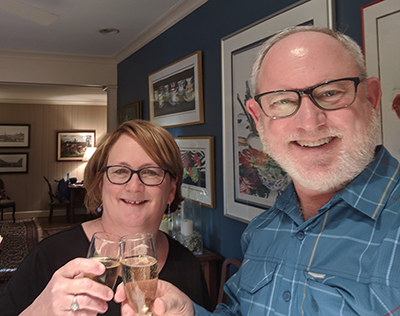 They took a train from Harlaxton to King's Cross Station and an Uber from there to a hotel near Heathrow Airport. They woke up and hopped a Delta flight to Atlanta, cleared customs, and caught a connecting flight to Detroit. It was a full two days before they were in a car, by themselves, with hand sanitizer, worrying about the safety of gas stations and rest stops.
But where were they headed? As fate would have it, the family friends from the wedding offered their vacation home in Maine. It could be theirs for two months. Some 900 miles and two hotels later, finally, they could exhale.
"We got there on a Thursday night, and for three days, I couldn't move," he says. "I just couldn't function. I'd never been that tired for that many days. It was just exhaustion."
That next Monday, the Zoom classes started and Bob began regularly leading the online classes with his Harlaxton students and reworking lectures. Admittedly, those first few sessions were a decompression, where the impact of the pandemic had become apparent to everyone. For some, the dream of a lifetime—the opportunity to be abroad— was lost.
Eventually, the pupils and professor settled into a rhythm again, sharing ideas, and enjoying each other's company. They got some of their mojo back before the bittersweet end of the semester.
"We didn't really get that finale—the farewells and the hugs—that's part of a normal semester. We got tears. They were ready to end classes, but nobody was quite ready to say goodbye. But we have this bond forever. We'll always have COVID. Well, sort of," laughs Bob.
The pandemic and all its uncertainty may have wiped out some scholarly research, which Bob still has hopes of completing eventually, but it did drive home two points.
"Well, every day, I can wake up and say, 'I don't have cancer,' and that puts you in a pretty good mood, most of the time," he starts. "I'll be glad to see our friends, glad to see colleagues. I'm fortunate to have some brilliant young colleagues."
He pauses for a second, thinking of this moment now three months into the pandemic, and finishes, "Anne and I feel like we may be the only people in the U.S. who aren't sick of their house. I hadn't seen it since last August, and I'm not sick of it at all."