Farming has always been in Wendy Feller's blood. Her Norwegian ancestors, the Loes, immigrated to Oregon in the early 1900's, settling in the Silverton foothills, where they established a working farm in Evans Valley. More than a century later, that same farm has been passed down through five generations; Wendy grew up in the home built by her great-grandparents.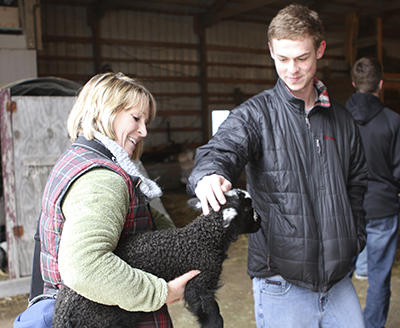 Silverton is a small town, a place where the Loes and the Fellers knew each other well. "Our family dentist was Dr. Feller—Scott's father," explains Wendy, "and my sister was once his dental assistant." During college, Scott spent his summers working on Wendy's sister's farm. The sparks began one summer when Wendy stepped in to help with strawberry season. They dated for a short time, then went off in different directions, but each always felt a strong pull back to their family farms.
Years later, while Scott was working on his PhD in chemistry at UC-Davis, the new First Couple of Wabash rekindled their friendship. Long-distance dating began and eventually they married. While Scott worked for the NIH and the FDA, Wendy raised the toddlers, Amanda and Jake. They returned to the Pacific Northwest, where Scott taught at Whitman College, in 1996.
Scott's interview for a teaching position at Wabash in 1998 marked his first-ever trip to Indiana, but it wasn't long before he and Wendy made a home and life in Crawfordsville.
In 2001, while living in a house on West Main Street, the Fellers purchased a 13-acre farm site in northwest Montgomery County. They started small—raising a few goats and sheep that Amanda and Jake could show at the 4-H Fair. After they built a home on the farm in 2007, Wendy saw new opportunities in the local food movement.
"We had a few sheep, and people kept asking about whether we would ever sell lamb," Wendy says.
Scott's family had raised sheep for generations and Wendy was enthusiastic about living full-time on the farm, which they named Silver Valley Farm. But raising lamb and running a farm business takes hard work and requires wearing many hats. Wendy, with her limitless energy and strong work ethic, managed most aspects of the farm herself. While also working part-time at a local catering company, The Juniper Spoon, Wendy learned more about farm-to table cooking and creative ways to prepare her own garden vegetables and lamb.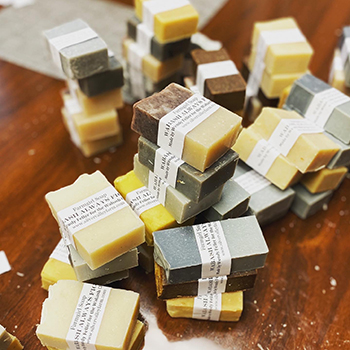 "We had always been a hobby farm, but I have this entrepreneurial spirit," she says. "While working at The Juniper Spoon, I started to build out a business in my mind—learning to market my farm—lamb, eggs, yarn, and soap."
For about a decade, she was a constant presence at the popular Crawfordsville Farmers Market, where she sold her farm products and shared recipes with a growing clientele. It wasn't long before Silver Valley Farm became known throughout the region for its high-quality Hampshire lamb.
Always searching for a new challenge, in 2016 she banded with three local producers to open Crawfordsville's first farm-to-table local food market. What started as an idea generated at the end of the Farmers Market season in early fall became a reality when Four Seasons Local Market opened that October.
"Looking back on it four years later, none of us thought it would last," Wendy says with a smile. "We said, 'Sure, let's set it up and see what happens.' But we never, ever thought it would be as popular as it has become."
Four years later, running the farm and a local business has become a grind that Wendy describes like the movie, Groundhog Day. "It can be very lonely work at times and there is a lot of repetition," she says.
When Wabash board chair Jay Allen '79 contacted Scott about serving as Acting President when Greg Hess announced he was leaving the College in February, it caught both Scott and Wendy off guard.
"I will admit I was shocked," explains Wendy. "I never imagined this opportunity opening up for Scott. We talked about it a lot: I realized I was ready for a change. Things had become very routine with the farm and store and I was ready to downsize."
In May, the Board elected Scott to be the 17th President of Wabash College.
"We have lived a very privileged life," Wendy says. "I've been able to do what I love, live on a farm, and raise our kids in a small town where they were able to participate in 4-H. I am now at the point where I feel it's important to give back in support of the college that has allowed us to do what we love."
Making such sweeping life changes during the pandemic has made for a less than ideal transition—but that's not entirely a bad thing.
"COVID-19 has created a slower period of adjustment for us and has allowed me time to rearrange other parts of my life to do this," Wendy says. "I like to travel, and I like to be around people; it's why I like being in the store so much. I'm excited for us to be able to go out and build relationships with the alumni and friends of the College—to share the stories of Wabash with them and learn their stories."