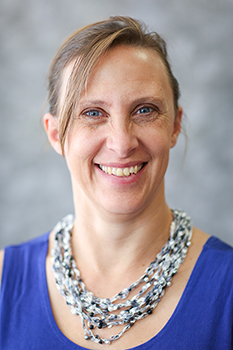 Professor of Chemistry Ann Taylor earned not one but two new titles this past year.
The first title is more well-known: Special Assistant to the President for COVID Response and Planning.
The second title? Star Baker.
For the past several weeks, Taylor and her family have been competing in their own Great British Bake Off with the families of other professors who taught at Harlaxton College (Lincolnshire, England) in the fall of 2019.
"While we were there during my sabbatical," Taylor said, "we would gather every Thursday night to watch GBBO together. If there were things to celebrate, like birthdays, that's when we would do it."
They tried to continue virtually watching the show together when the new season began this fall. However, because the group consists of families across England as well as the United States, time zone differences and access to the show made it difficult.
"One of our colleagues kept posting pictures of things they were baking while he was at home," she said. "I'm a stress baker anyway, so I was already baking, too. That's when I realized this was something we could all do together as a weekly challenge."
Taylor picked the first challenge—scones—and chose the first winner, also known as the Star Baker. Each week's Star Baker chooses the next challenge and the next winner.
The challenges have consisted of English baked goods (scones, a Victoria sandwich, tray bakes, shortbread biscuits, and pasties), American baked goods (apple crisp, Southern-style biscuits, and chocolate chip cookies), as well as more generic categories (chocolate, fruit pie, and cake decorated as a memory from Harlaxton).
For some bakes, specific details are needed in order to make sure there isn't any cultural confusion. Shortbread biscuits, for example, are like crispy cookies in the United States. For them to be successful, a nice snap should be heard when the biscuits are broken.
What exactly is an apple crisp? A pastie is similar to a hand pie, and a Victoria sandwich is actually a cake.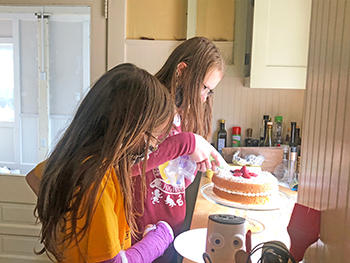 Taylor's daughter Hope and her friend Soren Olofson (daughter of Associate Professor of Psychology Eric Olofson) were named Star Bakers after they won the Victoria Sandwich challenge. The girls decided the next challenge should be chocolate chip cookies, and they specified the cookies needed to be soft on the inside.
"Even though I couldn't do much because my arm was in a cast," Soren said, "I was able to mix the ingredients and help record a video announcing the next challenge! I had a great time doing it, and it was really fun to spend time with Hope."
However, there's still the question of how a baking competition is judged virtually.
To start, the judging is much more Mary Berry/Prue Leith than Paul Hollywood. (For non-watchers of GBBO, that means their comments are much more complimentary than honestly blunt.)
All of the challenges and entries are posted in the families' private Facebook group. Some bakes are taste-tested by neighbors, but most are judged by their look and style. When the Taylors made their shortbread biscuits, they posted a video proving they had a satisfying snap when broken.
"What I love about the show is that, even though they're competing, they're supportive of each other and not malicious," Taylor said. "It's a community coming together and trying to do the best they can. That's all we're trying to do too, and it's been a fun distraction from all the things that are hard in the world right now."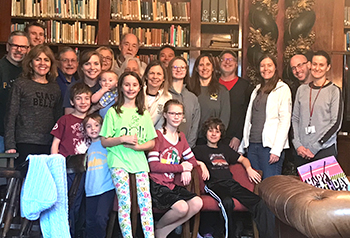 Even though the official Great British Bake Off has aired its season finale, Taylor and her colleagues are determined to keep going through the end of the year.
For December, they're planning on yeast bread, Gingerbread (which originated in England), and finally their favorite Christmas cookies.
"Then we'll take a break for January diets," Taylor laughed.