The word contagious might be taboo during a global pandemic, but there should be an exception for the personality of Tyler Watson '22.
"He brings a certain energy to a room," said Parker Manges '21, Wabash basketball player and Watson's teammate. "Wherever Tyler goes, that place ends up becoming a little better and happier."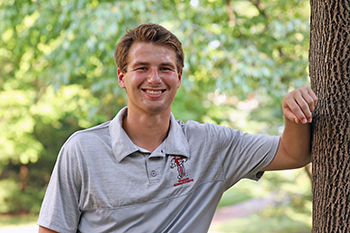 Watson is a native of Brownsburg, Indiana, and is one of four managers on Wabash's COVID Action Response and Education (CARE) Team. As a CARE Team manager, Watson works closely with the Healthy Campus Task Force, relaying updated information to the student body and coming up with new ideas to help with the campus's COVID response. He and the three other managers help 40 CARE Team leaders respond to student concerns, encourage campus to follow public health guidelines, and find ways boost morale for the student body.
When the search started for these leadership positions, CARE Team Coordinators Olmy Olmstead '04 and Pre-Health Advisor Jill Rogers were looking for students who were respected by their peers, could lead by example, and could develop relationships with all kinds of students.
As clichéd as it seems, they needed students who cared.
"When Jill asked me if I was interested in the position, I was a little hesitant at first," Watson said. "I didn't know if I wanted to be the guy that would crack down on people for not wearing their masks or not following social distancing.
"But then I saw this quote that said, 'Culture eats strategy for breakfast.' After learning about all of the work everyone on campus had done over the summer to help get us back on campus, I knew Wabash had the strategy. I wanted to be a part of making sure we had the culture to maintain it, and the CARE Team was a great way to do that."
Watson has been impressed with how his Wabash brothers have risen to the challenge of this semester. There is a general consensus among the student body, he said, that they want to be on campus more than they want to do their own things.
Still, there are times when things can feel overwhelming—particularly on the weekends when it can be easier for students to let their guard down. But no matter how he's feeling, Watson tries to be a calming presence for anyone who might be feeling stressed.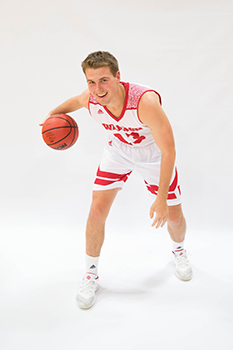 "Tyler understands that he won't be able to help anybody by putting on a grumpy face," Wabash Head Basketball Coach Kyle Brumett said. "It's more important that he help someone else than it is for him to show his frustration. It's just his way.
"His default is to try to make things better."
One of those frustrating times for Watson was when he realized he wasn't connecting with his freshman teammates in the same way he had been able to as a freshman.
So he took them off campus to pick up trash around Crawfordsville.
"It might not sound fun, and it wasn't glamorous, but we were able to talk, hang out, while also doing something for the community," Watson said.
"I posted some pictures of the guys on social when we were done, and it just blew up. More than 15 guys texted me saying they wanted to help."
Realizing the opportunity in front of him, Watson contacted Crawfordsville Mayor Todd Barton '00 for project ideas. At 8 a.m. the next Saturday, Watson and 24 other students were cleaning up the perennial garden at the local Amtrak station.
"In one hour, they did a week's worth of work on that garden," said community member Helen Hudson, who has been working to renovate the Amtrak station. "It was such a beautiful, heartening thing to see college students taking the initiative and reaching out to their temporary community."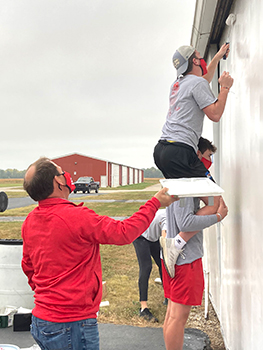 It has been five weeks, and Watson has led and/or inspired volunteers from the football team, soccer team, Beta Theta Pi, Tau Kappa Epsilon, Phi Gamma Delta, and the Malcolm X Institute. In addition to the Amtrak station, projects have been completed at Milligan Park, the Crawfordsville District Public Library, and Bethel AME Church.
Wabash College President Scott Feller even joined the basketball team's painting project at the Crawfordsville Municipal Airport.
"When people see how hard Tyler works and that he's doing it for all of the right reasons, it's easy for other guys to feel comfortable listening to and following him," Brumett said.
"Tyler's leadership style is to make people know that he cares," the coach continued. "He is outwardly and actively trying to be a positive influence, which is something that he has always been for our team, and now the rest campus gets to see it too."