"The show must go on."
"Wabash Always Fights."
"It's so crazy that it just might work."
Pick any of the aforementioned phrases, and you've got an apt description of Wabash Theatre's virtual production of THE RACE, which premiered Wednesday via Zoom.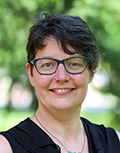 "There are so many schools that have had to cancel their fall productions, but I thought we should try to do something different," said BKT Associate Professor of Theater Heidi Winters Vogel.
Winters Vogel had three interns over the summer—Paul Haesemeyer '21, Ace Dzurovcik '22, and Abigail Greaser, a student from Goshen College—who helped her reimagine what Wabash Theatre could successfully produce during the time of COVID-19. They decided that a show on an online platform was the only way to put on a production safely, and THE RACE was the perfect first virtual show.
THE RACE is a combination of performance, interactivity, and audience participation around leadership and participatory democracy.
"The show is centered on leadership, and our cast will be asking people to think deeply on what they want in their local, state, and federal leaders," Winters Vogel said. "It doesn't work without an audience, and we need our audiences to be willing to participate."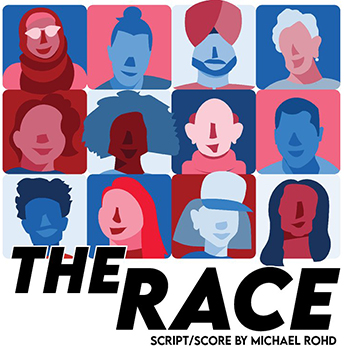 The first act of THE RACE appropriates campaign language and satirizes it through the "game show" genre. Sound bites from campaign videos are integrated into the dialogue and action. The second act continues the energetic storytelling as the performers jockey for the attention of the audience to "sell" themselves as leaders. The final act asks the audience to evaluate the nature of true leadership in breakout rooms facilitated by the actors.
"It's more camera acting than theater acting, but it is in the theater style because it is live," cast member Sebastian Wang '22 said. "Also, this show is mostly improvisation, and none of us know what questions we will be asked each night, we have to pay extra attention and really be engaged."
The rest of the cast is comprised of Wabash Democracy and Public Discourse Program Associate Hayley Blonsley, Robert Borland '22, Anders Carlson, Emerson Courter '22, Visiting Assistant Professor of Rhetoric Cory Geraths, Paul Haesemeyer '21, Hayden Kammer '24, Justin Kopp '21, Sammy Lebron '22, Robin Vogel, Latrice Young, Dei'Marlon Scisney '21, and BKT Assistant Professor of Spanish Maria-Cristina Monsalve.
"It's been really exciting to see all of this come together," Winters Vogel said. "There has been so much that I have learned about technology throughout this process, which has been really good for me. And I have enjoyed watching the cast pick up on improvisational opportunities throughout the production's discussions.
Tickets for Wabash Theatre's production of THE RACE are currently sold out. However, a waitlist is available to join at www.wabash.edu/boxoffice. Admission is free.