What is an Athletics Communications Director to do when there are no athletics to communicate about? Brent Harris H'03 is just as busy as he always is this time of year—if not more so—with his transition from sports statistics to COVID-19 statistics.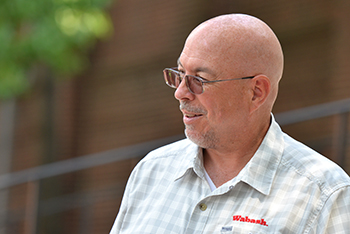 Every day, students, faculty, and staff enter their daily temperature symptom information into a COVID Pass app to receive either a green pass (You're able to be attend class or work.) or a red alert (You may not attend class or work and should speak with a doctor.)
Harris is one of the people who collects, monitors, and analyzes this data. If a student receives a positive COVID-19 test result, he works with state and local health departments and uploads the information to the state database. Harris is also a certified contact tracer after completing a training through Johns Hopkins University. On top of all of that, he is also managing the hotel rooms in Trippet Hall, where students are quarantining if they can't go home.
This semester proves there is much more to Harris than sports—for example, he was a theater major in college. We wanted to know what else we could find out, so we asked him to take a break from statistics and finish the following sentences:
One thing on my bucket list is… to work the Olympics. I had the opportunity to work the summer games in London, but the timing with my Wabash schedule wasn't going to work in 2012. I keep my connections intact at NBC for that option to stay on the table.
If I had to listen to one artist the rest of my life, it would be…

A toss-up between Jimmy Buffet, Jason Mraz, and the Counting Crows, but Buffet would probably win out in the end.
My favorite item in my office is… My credential from Super Bowl XLVI, when I worked on the NFL stats team for that game, and my ticket from Super Bowl XLI, when I watched the Colts defeat the Bears.
The one food I will never bring myself to eat is… Liver. My 56-year streak remains intact.
The three apps I used most on my phone are… The Wabash COVID Pass App, Hootsuite to process social media posts for the Wabash Athletics accounts, and the Phillips Hue app because it runs all the lighting in my house.
One terrible movie that I love is… "The Adventures of Buckaroo Bonzai: Across the Eighth Dimension" followed closely by "Real Genius." Two dumb movies with lines I love to quote over and over again.
One thing I would have a hard time living without is… Diet Coke. It's my life blood on long weekends.
My favorite sound is… Robert Greenidge playing the steelpans during a Jimmy Buffet concert.
Three celebrities I've met are… tough to narrow that down to my top three. My top three would probably be Peyton Manning, Kevin Costner, and Senator Richard Lugar.
My biggest pet peeve is… a toss-up between people who don't use the Oxford Comma and people who put two spaces after punctuation in press releases.
I love working at Wabash because… I enjoy working with outstanding students, faculty, and staff on a daily basis. I appreciate the high expectations placed on the students in every facet of the lives at Wabash and enjoy celebrating their successes—not only while they are here but in their lives after graduating.