On Sunday, Wabash College held its annual "Ringing In" ceremony—the first tradition in a string of many that marks the four years of a Wabash man's education.
Wabash welcomed 255 young men from the Class of 2024 as they sat in socially-distanced seats on the College's Mall. While parents and loved ones watched the unfolding events via livestream, new President Scott Feller expressed his hope to each student that, "after your four years here, you will leave as someone that those around you describe as 'acceptable at a dance, invaluable in a shipwreck.'"
"Yes, we want you to learn to think critically, act responsibly, lead effectively, and live humanely. But we want you to do those things with integrity and a sense of purpose," Feller said. "We want your time at Wabash to be a quest for a moral life.
"I promise you that if you are all-in at Wabash, you will develop the capacities of resilience, care, and collaboration that will prepare you to be the leaders our world so desperately needs."
Using the hand bell that once belonged to Wabash's first professor Caleb Mills, President Feller rang in the class of 2024, welcoming them to the College's ranks. The next time the bell will ring for those students will be at their Commencement.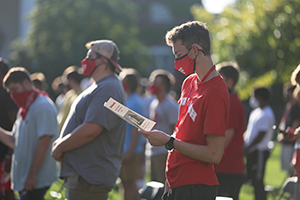 Dean for Enrollment Chip Timmons '96 revealed telling statistics about the Class of 2024 (hailing from 8 countries and 23 states, with an average GPA of 3.75) before reflecting on the many ways this year of recruiting—and staying connected to—students had been different from those in past years.
"When the pandemic forced us to close our campus and cancel visit programs," Timmons reflected, "our Wabash family asked 'what can we do to help?' A family provides support in times of triumph, celebration, grief, and uncertainty. When you chose Wabash, you chose to join a family. Welcome to the Wabash family."
Marc Nichols '92, President of the National Association of Wabash Men and General Counsel for Saab NA in Syracuse, NY, encouraged the gathered students to think about those who had come before them and to look at those around them.
"Think about your mom or dad, your brother or your sister, perhaps the wise words of a grandparent, a teacher, a coach, or a true friend," Nichols said. "They're the reason you're here. Now look closely at each other. These are your future best friends, the guy you'll ask to be the best man at your wedding. These are the men who will be there for you in your life's highs and lows, and there will be plenty of both."
Dean of Students Greg Redding '88 offered an earnest welcome, thanked the legions of staff and faculty who had a hand in preparing the College for the coming semester, and acknowledged the difficult times surrounding the rite of passage this year.
"The Wabash culture is one that embraces challenges such as this," Redding said, "for we know that every challenge presents opportunities—opportunities for personal growth, for discovering new ways of doing things, and for honing in on what is truly important in our lives."