A cluttered email in-box was the inspiration for Simran Sandhu '20 and Darian Phillips '20.
Day after day, the duo was spending significant amounts of time wading through email trying to digest the news of the day and what was happening around them. They wanted something quicker, more conversational, and productive, and thought others might be interested, too.
They settled on a daily, five-minute podcast – the Five Minute Drill – that debuted in March and since has risen into the top 100 on the Apple podcast rankings. At a time when plenty of podcasts made their debut, it's remarkable that the Five Minute Drill caught a wave and garnered sustained attention.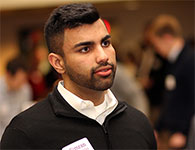 "It's humbling," Sandhu said of the initial success. "There is a ton of work that goes on behind the scenes and we've made a lot of sacrifices to be consistent and keep this podcast our top priority."
They used to spend close to four hours each night producing each episode. Thankfully, they've become more efficient in curating the news, scripting, recording and editing. The secret to distilling down to the essence is a simple one.
"We try to remove the fluff, he said. "If each paragraph on our script doesn't get straight to the point or doesn't flow well with the information presented before, we know that it's time to rewrite."
Phillips agrees, saying the work centers on captivating the audience.
"Finding the stories and identifying the essential pieces of that story is certainly difficult, but the real work comes after that," he said. "We are constantly striving to find a balance between brevity and entertainment, and we don't want our episodes to sound like a laundry list of facts."
The duo first met in Dr. Jeremy Hartnett's freshman tutorial, eventually becoming friends and fraternity brothers. As both were involved in the Center for Business, Innovation, and Entrepreneurship (CIBE), the WabashX initiative that mixes real-world business experience with the liberal arts curriculum, the project received two needed boosts: strategic guidance along the way and a workspace in the Arnold House to produce the first few episodes.
"The CIBE was undoubtedly one of the more valuable resources during our time at Wabash," said Phillips. "We were given access to endless amounts of opportunity that provided us with the necessary tools to start a business and provided access to a powerful Wabash alumni network that continues to support our goals."
Sandhu and Phillips aren't resting on their laurels. They've established UpFive Media, a company that includes four team members to oversee the podcast and other ideas in the near future.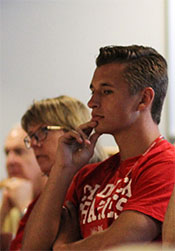 "Our mission is to connect young professionals with thoughtful ideas, conversations, and information with originality and sincerity," said Sandhu, "As we move forward and decide what initiatives to pursue, we first evaluate them using a few different criteria. How will this add value to our consumer? Does it align with our company's brand and long-term vision? What is the opportunity cost? What are the immediate financial implications? Why is now the best time to pursue this?"
They are trying to put that mission into action on Aug. 13 with "The New Normal," a forum designed to dive into the implications of the COVID-19 pandemic on education, policy, and employment. Panelists include Aman Brar '99, CEO of Jobvite; Scott Feller, President of Wabash College; Marc Nichols '92, Executive Vice President, General Counsel and Company Secretary, Saab, Inc.; and Josh Owens '07, former CEO of SupplyKick and former Gubernatorial Candidate for the State of Indiana.
"We wanted to create an open forum where leaders in various industries can share ideas, ask questions, and ultimately have a productive conversation around a relevant and important topic," Sandhu said. "We went with 'The New Normal' because there's a lot of uncertainty amid the current environment, and I believe community members could all benefit from this event."