Hunter Jones '20 spent all of his freshman year studying on the third floor of Lilly Library.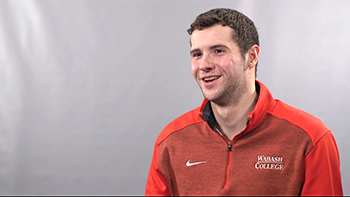 He had to make it to medical school. Yes, there were other goals he wanted to accomplish along the way—like swimming, for example—but medical school was the important one.
"That's the longest dream I think I've ever had."
Fast forward four years to the week before Commencement, when it was announced that Jones received the NCAA's prestigious Postgraduate Scholarship. The award is given to student-athletes in their final year of intercollegiate athletics competition who excel both academically and athletically for use in an accredited graduate program.
The scholarship will provide Jones with $10,000 to use toward his tuition at the Southern Illinois University School of Medicine, where he'll be attending in the fall.
"I would tell freshman-year Hunter that it will be worth it a thousand times over," Jones said. "The experiences I've had because of the work I've put in, I wouldn't trade it for the world."
Some of those experiences include: working with the Montgomery County Health Department on the opioid crisis, shadowing a world-renowned heart surgeon in Ecuador, traveling to Norway to conduct epilepsy research on zebrafish, receiving distinction on his comprehensive exams in both majors—biology and psychology, receiving the Indianapolis Association of Wabash Men Scholar-Athlete Award, being part of record-breaking swimming relay teams, and becoming an All-American after qualifying for the 2020 NCAA Division III Swimming and Diving Championships.
"I am so incredibly proud of Hunter," said Wabash head swimming coach Will Bernhardt. "He represents everything that is right with collegiate athletics."
The work Jones put in during his freshman year continued into the summer, when he conducted research with Dr. Sorenson-Kamakian.
The next summer, he hoped to get into an MD PhD summer research program, but he did not. With the help of Wabash Global Health Initiative coordinator Jill Rogers, Jones was offered an internship with the Montgomery County Health Department, where they asked him to help come up with procedures and protocols for their opioid overdose response team.
"I thought I was going to making flyers!" Jones said.
"Before I started working with the health department, I knew the opioid epidemic as a national problem. I'd seen a lot of big-scale numbers. But then I experienced it. It's not a number; it's the person you saw come to a meeting the day before. It's a life story."
"Hunter learned a lot about himself that summer because of his role at the health department," Rogers said. "I was told by the folks at the health department that he evolved into the local expert on Medication Assisted Therapy for opioid addiction, and county stakeholders turned to him in meetings to ask for his opinion. This is the guy I want as my physician!"
Jones likes the puzzle-aspect of being a practicing physician—looking at symptoms and designing a treatment plan.
However, his experiences have taught him a lot more goes into that process than what he reads from his biology textbook in the library. For example, his work with the health department and his time in Ecuador with surgeon Jack Myers '74 taught Jones the importance of problem assessment and considering a patient's situation before diagnosis.
"I've seen some really eye-opening living conditions, even in Crawfordsville," Jones said. "And those are things I have to consider, and will because I've seen it."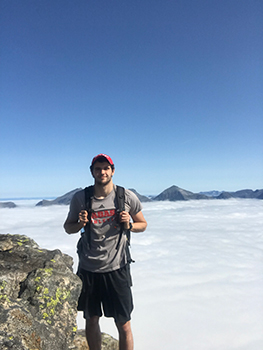 The summer before his senior year Jones went to Norway, where he conducted epilepsy research using zebra fish. The study involved putting the fish into a tray, administering a chemical to induce seizures, and then, using drugs created from bioactive products obtained from the Arctic Circle, trying to stop the seizures.
"Even though I was giving them seizures, which is something I had to get used to, I was doing a lot of stuff in the name of science. I had to think about the bigger picture, because if we find a natural product that's going to work—which looks really promising right now—then it's going to go into a rat, then potentially into a human, and then hopefully stop someone from having an epileptic seizure."
Now that Jones is headed to his first-choice medical school, he's ready for his long-time dream to become reality. But before that can happen, he's had to face the current reality that his swimming career is over, and it ended on his way to Nationals. Just days before the competition was set to begin, the NCAA canceled the event to help prevent further spread of COVID-19.
"His dreams for Nationals ended just like that," Rogers said. "I texted him to let him know I was thinking of him, and he responded with something along the lines of 'It's the right thing to do.'"
"Perhaps I was particularly understanding of the decision after working with the health department the last few years," Jones said. "My experiences there really helped me to see outside of myself and think about how decisions, such as canceling national championships, impact the broader scope of public health.
"Even though I was personally disappointed, I did take solace in knowing that if cancelling meant saving even just one life, then it would be worth it - no question."
Fortunately for Jones, though, so many other things went right during his senior swim season.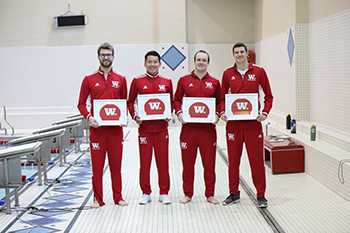 Jones' 400-yard medley relay team won the first NCAC conference relay title in school history, breaking records in the process.
He earned all-conference honors five times, qualified for the 2020 NCAA Division III Swimming and Diving Championships in the 100-yard breaststroke, and helped lead the team to one of its most satisfying victories—they finally beat DePauw.
"That rivalry transcends football," Jones explained. "That's how you judge your season! I never got asked how I finished at conference or what my times were. It's always, 'Did you guys beat DePauw?'"
Even though he's graduated, Jones said he will never fully leave Wabash behind. Instead, he's taking Wabash with him because of everything he learned while he was here.
"I'm prepared for this next phase of my life. I'm not walking into medical school scared because I know how to study. I know how to approach problems. I know how to form relationships, and I'm so proud of the ones I've made here because I know they'll last a lifetime.
"I can't think of a better decision that I've made in my life than to come to this college. And now I'm ready to take on the world, because of Wabash."