The Wabash College Theater Department opens its 2019-20 season with Neil Simon's comedy, Biloxi Blues. The play will be performed at 8 p.m. October 2-5 in Ball Theater.
Tickets are free, but should be reserved online through the box office.
The Tony Award-winning play follows a zany band of Army recruits going through basic training in Biloxi, Mississippi, while coming of age. Thought to be semi-autobiographical, the story is told by New Yorker Eugene Jerome (played by John Wallace), an 18-year old recruit who intends to turn his experiences into a memoir. A senior, Wallace delivers a terrific performance as the play's narrator.
"The cast members quickly came to love the play and we just had a feeling, very early on, that it would be a blast to bring to the stage at Wabash," said director Michael Abbott. "I'm not sure I've ever had a cast work this hard and put so much into a production."
Biloxi Blues is the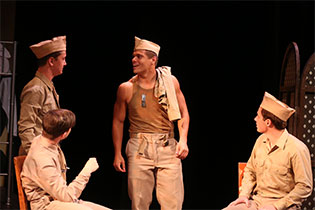 second play in Simon's trilogy, which includes Bright Beach Memoirs and Broadway Bound. Set in the midst of World War II, Eugene tells the story of Arnold Epstein (played by Austin Ridley), and the platoon's battles with their sergeant, Merwin J. Toomey (played by Indiana Repertory Theater veteran actor Rob Johansen).
Johansen has done dozens of shows in the region, and has worked closely with Wabash's Theater Department as a guest director, workshop leader, and fight choreographer.
"We had a second full read-through when Rob joined the cast – in our tiny green room," Abbott said. "Rob delivers his first lines — big, booming, and thunderous like the drill sergeant he plays, and everybody was like, 'Oh, it's going to be like this.' He's really challenged the other actors to meet him at his level."
The cast includes a blend of Wabash Theater veteran performers and some new faces. Senior Artie Equihua, who is a captain and starting safety on the Wabash football team, is on stage for the first time at the College. "We needed a big, strong, strapping guy to play [Joseph] Wykowski, and when Artie walked into auditions, everybody knew it was his part," Abbott said.
The remainder of the cast includes Clayton Allen as Roy Selridge, Kevin Ballard-Munn as Don Carney, Austin Yeomans as James Hennesey, Brea Carlson as Rowena, Betsy Swift as Daisy Hannigan, Rob Castellano and Erik Hetler as MPs, and Zachery Koppelmann as First Sergeant Carl Lipton.
Koppelmann, who directs the Wabash Writing Center and is an Army Veteran, brought his military experience to the cast.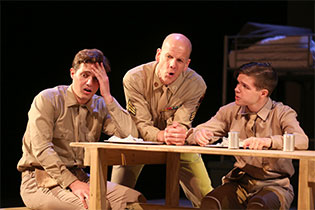 "Zachery came to the first 20 minutes of almost every rehearsal and led the cast in military drills. He's been terrific."
Ian Little is the stage manager with assistance from Benny Wang. Abbott gave high praise to Little's work — not just as the stage manager. "Ian has been great," Abbott said. "He's decided he wants to be a professional stage manager and he will get some work, for sure. He's my true partner and I trust him 100 percent. He's a well-rounded theater guy with good creative instincts, and the cast just loves him."
The design team includes scenic designer Noah Files, costumer Andrea Bear, technical director Todd Handlogten, lighting designer Zac Hunter, and sound designer Ace Dzurovcik.
The play includes adult situations and language.
A Biloxi Blues Podcast
This week's edition of the "Wabash On My Mind" podcast talks to "Biloxi Blues" director Michael Abbott and cast members Artie Equihua '20, Austin Ridley '20, and John Wallace '20. The quartet discusses a number of topics relating to the Neil Simon classic. Just click the red arrow in the graphic below to enjoy an audio preview.