So how did you get here?
I'm told that's an interesting story. Kaleb Wood '21 and I are talking about summer internships, mental health, and alternative music. For Kaleb they are all linked.
Since he started attending Indianapolis' Southport High School, Kaleb discovered some of his friends were going through some challenging times and would often come to him to talk. He wanted to be a good friend, and proved to be a good listener, but he was never quite sure if he was helping.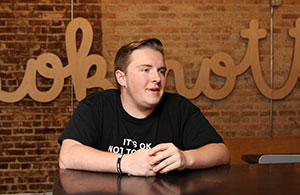 "In the back of my mind, I was thinking that I don't know how to actually help," he says. "That kind of got me started on the mental health path. I was looking out for a friend."
A teacher, Daniel Jones, introduced Kaleb to psychology. It sparked an interest.
In the summer of 2017, Kaleb attended the Warped Tour, the traveling alternative music festival, on its stop in Cincinnati. While there he discovered a booth for a Chicago-based, non-profit organization, Hope for the Day (HFTD), that seeks proactive suicide prevention through outreach and mental health education.
He was impressed enough with what he had learned to volunteer during the Warped Tour's Cincinnati stop a year later. While working the booth, Kaleb suggested to a coordinator that he might like to do more, perhaps intern with HFTD. He was told to reach out.
Over the course of the next few months, he had conversations with the necessary personnel until he was offered a position. "We'd love to have you," they told him. "if you are willing to work, we're willing to give you a spot."
"I don't think there is anything better than the people that I work with," says Kaleb. "The people make me happy. I'm happy to go to the office every day, or come here, or go to an event."
The here in question is the Sip of Hope coffee bar in Chicago's Logan Square neighborhood that serves as HFTD's daily outreach. A place where "it's ok not to be ok," the shop is a safe space where the baristas are trained in mental health education and 100 percent of the sales support HFTD's mental health education efforts. Kaleb says Sip of Hope is the physical embodiment of HFTD's mission.
Further, he's learned the benefits of self-reliance over his eight weeks in Chicago, where tasks like getting to work, grocery shopping, or even mailing a Father's Day present require a little thought and a rapid transit map. When he moved to the city for the summer his family brought his car, but Kaleb told them to take it back. He would navigate the city without it and adjust to life on his own.
There was an "oh, crap," moment in the aftermath of that decision, but Kaleb persevered. "I was whelmed, but I wasn't overwhelmed," he laughs.
He's also discovered that not being tethered to a car has allowed for impromptu discoveries, including a visit to the Willis Tower Skydeck and a search for a Kris Bryant batting practice session downtown along the Riverwalk.
"It's really been more freeing than anything else," he says, grateful of the support of the Dill Fund. "When I'm not at work and I don't have to have other obligations, sometimes I just take my bike and go."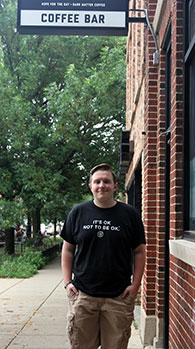 Just getting to this summer was a two-year test. To add the lessons he's learned personally and professionally, Kaleb sees the reward in following through.
"It's been a great summer," Kaleb says. "I wanted to work for Hope for the Day. I wanted to live in a big city for the summer. It forced me to be independent. Persistence and drive factored in, and that's what I've received from Wabash."
During his Windy City summer, Kaleb split his time between office work, staffing outreach events, and making appearances at Sip of Hope. His primary focus for HFTD was in their educational outreach, and developing training manuals for their volunteers. The goal is to make people aware of mental health resources, reduce the stigma associated with silence, and be proactive about suicide prevention.
The experience helped him become more sympathetic in his interactions.
"I'm not a mental health professional," he starts. "We use the phrases 'be a teammate and support' and 'act as a bridge,' and I feel like that's how I can help. There are a lot of things I've learned about the stigma behind mental health that I had never thought of before. We just want to reshape the way we talk about it so people feel more comfortable."
Those conversations have impacted Kaleb's education as well.
"In the real world, things don't happen so neatly," he says. "It's one thing to learn about signs and symptoms in the classrooms and textbooks, but it's another thing to interact with someone and have them tell you their story and what they are going through. Separating, seeing things from different angles. There is no hierarchy of experience or pain."