His introduction to sales came via the cold call. The thought of being on either side of that exchange turns most people off, but Nick Winter '21 didn't have much choice.
He was a few weeks into an internship with the Adorant Group in Chicago, an established start-up that specializes in providing financial technology platforms to financial analysts, and hoping to land his first sale.
Winter knew nothing of sales or financial technology – FinTech to insiders – when he started. He learned the platform and a customer relationship management system on the fly to identify and research the next clients to contact. To add to the pressure, his cold calls, hundreds of them, were generating the same response: no.
When he finally heard "yes" for the first time, he stammered, fighting an unexpected mix of surprise and happiness. It left him craving more.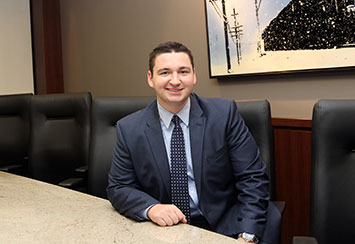 "I was learning something I've never worked with before and trying to adapt quickly," said Winter, who rides the South Shore Line into Chicago from near his home in Crown Point, Indiana. "The Adorant Group was definitely the place to do it. Being so small and intimate has helped me get a good grasp of FinTech and sales. I want more close meetings."
He's closing about one sale each day now and speaks confidently about his efforts. By persevering, he's even grown to love the word no because it presents an opportunity. Now, no is a signal to rework his sales pitch. Now, he's going to need to hear no three or four times before moving on.
"If someone says no, I'll ask why," he explained. "It gives me an opportunity to rework how I originally sold the platform and helps me see if I could make them understand the product a bit better, or go down a different avenue about how the platform could help them."
Winter tries to match a listener's energy from the first word, and attempts to create a relationship based around the product he selling.
"I try to put a nice twist on it," said the rhetoric major with minors in business and economics. "I'm working on connecting more, focusing on the nitty gritty to make sure that I get the most out of every call. Believe me, every call is disrupting someone's work day. You have to be on your game in representing the brand and the company. That experience, not once, not twice, but repeatedly making it a habit, has given me the confidence that I can pursue this."
It's high energy, and by the end of the day, can be draining.
Winter was primed for this internship, funded by the Dill Small Business Internship Fund, through his experience with the Wabash Center for Innovation, Business & Entrepreneurship (CIBE).
Introduced to the business world through the Business Innovation Program and continuing through his elevation as an innovation consultant, Winter has succeeded in real-world tasks like building a business plan and consulting with local businesses.
"The CIBE set me up for success," said Winter. "It gave me real world experience outside of Wabash and that safety net. It set me up by setting deadlines and expecting work and results from me. You have expectations. You are here for a reason, you are being paid for a reason, so those expectations are a big part of this."
Being able to meet those expectations also has given Winter a look ahead to his future.
"It's been a truly amazing way to spend my summer, and I owe that all to Wabash for giving me really great experiences to build my resume, and using my resume to break into the business world," he said. "I didn't really know that I could do it, that I could go and close, but that's what I'm excited about. The feeling of what I want to do with the rest of my life."