On Tuesday, the Wabash community got a behind-the-scenes look at the decisions being made every day by small businesses and organizations in the Crawfordsville area—and how Wabash students from the Center for Innovation, Business, and Entrepreneurship (CIBE) are helping to drive those very decisions.
The event featured three groups of CIBE Innovation Consultants presenting the results of their collaborations with various organizations. The CIBE had 23 total groups doing similar engagement projects this year.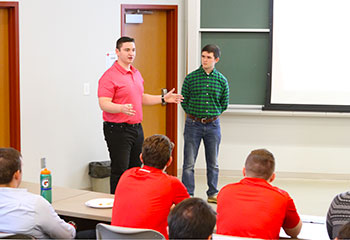 CIBE Senior Innovation Consultant Nick Winter '21 and Junior Innovation Consultant Nick Goode '22 offered the results of their collaboration with Crawfordsville's own Chamber of Commerce. They assessed the membership plans of chambers from around the state and tailored a specific model to fit Crawfordsville's needs.
Rick Hernandez, the Chamber's Executive Director, was in the audience at the event. Hernandez had already heard the project's conclusions, of course. But he wanted to be in the room to support the students he'd worked with, and to witness the event's question and answer period, where the students had a final chance to test their ideas against real-world consumers in the audience.
Hernandez says he's happy to have had the opportunity to work with the CIBE consultants, and that they brought "creativity and research capital to the table, allowing for meaningful solutions."
Ifrat Zaman '20, James Despain '22, and Seth Younker '22 also presented on their collaboration with The Coaching Toolbox, a small online business that needed help finding new partners and refining its social media presence; Max Von Deylen '19 and Caleb Larson '19 spoke about an app they developed to solve a costly inventory tracking problem for College's Student Senate.
CIBE Senior Fellow Alejandro Reyna '17, who manages the CIBE Partners program and emceed the event, is quick to note that you can't find a program like this at many other colleges where similar opportunities often exist only for business majors and upperclassmen.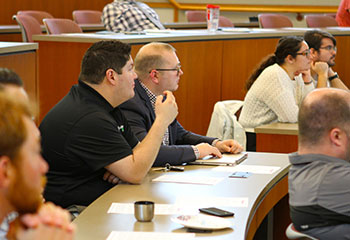 "Most of the students that presented today were underclassmen, specifically freshmen. At Wabash, they have the chance to produce real solutions that positively affect community members near and far."
"Of course," he says, "They're positively affecting their own experience, too. They get to learn in an experiential way from the projects, and they have a real-world story to tell someday when a recruiter asks them a tough question."